114 IPOB WOMEN REMANDED IN PRISON.: Buhari led FG pushing Ndigbo to the wall.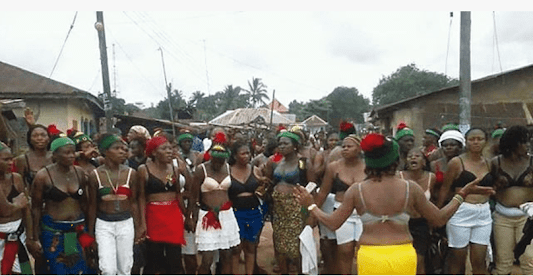 Source: Igbo Canadian Community Association (ICCA/Umunna).
-Your selective law enforcement smells of Apartheid against Ndigbo
-Onslaught on our women is one brutality too many
-Your continued harassment will open door to uprising
Toronto August 23, 2018: The Igbo Canadian Community Association (ICCA/Umunna) have described the action of the Federal Government in arresting, detaining, torturing, arraignment and incarceration of 114 Igbo women members of the Indigenous People of Biafra (IPOB) in Imo State as a deliberate affront on Ndigbo and a recipe for anarchy.
In a statement issued in Toronto, Canada, the President of the socio-cultural and political group, Chief Ugochukwu Okoro, through the Public Relations Officer (PRO) Mr. Ahaoma Kanu, said said "ICCA/Umunna wants to sound a warning that with the gross show of abhorrent and execrate behavior in which President Muhammadu Buhari's led Federal Government responds to issues involving Ndigbo is becoming too brutal for our endurance and if not stemmed at this moment, may pave the way for anarchy.
The latest onslaught on Ndigbo by the FG on our grandmothers, mothers, wives and daughters, 114 of who were serially tortured with chemical agents and remanded in prison for exercising their constitutional rights to exercise their freedom of expression is one brutality too many.
Ndigbo have always engaged in dialogue and advised our young people to respect the rule of law but when there is an obvious selective law enforcement clothed in discrimination with an objective to bear down on a people by pushing them to the wall, the reaction, which history bears witness to, is always a situation that does nobody any good.
We condemn in the strongest of words the dehumanizing treatment meted out to our women whose ages ranged from 72 to 18 years by members of the Nigeria Police Force who used over 100 tear gas canisters on a group of women going on a peaceful protest that in no way caused any breach of peace or break down of law and order.
The Police forcefully arrested them, tore their clothes and shot tear gas canisters directly on the faces of aged women who were asking for the whereabouts of their leader and our son, Mazi Nnamdi Kanu.
On April 18, 2018, armed men accompanied by a member of the legislature alleged to be in the camp of President Buhari stormed the Senate and stole the mace and also, early this month, members of the Directorate for State Security (DSS) laid siege at the National Assembly in a clear attempted hijack of the democratic process in the country. These actions, said to be perpetuated with the knowledge of the presidency and his party, were not met with the ferocity with which Igbo women on a peaceful protest was tackled which is evident of President Buhari running an apartheid system of governance in issues concerning people of the South East.
People from other parts of the country are allowed to exercise their right to protest and peaceful assembly but when any person from the South East gathers to ask for legitimate issues of concern, the government unleashes law enforcement on them. This has made bare the agenda President Buhari had in orchestrating the proscription of IPOB to serve as a cover with which to continuously degrade, dehumanize and imprison the Igbo nation.
Lest the FG forget, on December 17, 2010, the action of a police officer who slapped a young food vendor in Tunisia led the victim to undertake an action that became a catalyst for what later became known as the Arab Spring. President Buhari should know that actions such as using chemical agents on defenseless women, initiating torture and abusing their human rights can equally lead to the Bouazizi-effect in the South East.
Let this hostility towards Ndigbo by this government STOP.
The ICCA/Umunna hereby demand the immediate and unconditional release of the 114 IPOB women members remanded in prison custody on the orders of Magistrate S.K. Kadurumba.
Names & Ages of tortured and criminally incarcerated Mothers of the Nation:
Afoma Umoh Wisdom (64yrs)
Virginia Akwufube (62yrs)
Ezike Emmanuela (62yrs)
Uzoma Oraka (62yrs)
Charity Obioha (60yrs)
Chinyere Nwachukwu (55yrs)
Udeogu Margret (58yrs)
Rachel Okengwu (58yrs)
Angelina Felix (55yrs)
Monica Anaelechi (54yrs)
Esther Osuji (52yrs)
Florence Olewembu (52yrs)
Nkechi Ekwedisika (52yrs)
Kosarachukwu Udegbunam (51yrs)
Josephine Ogolo (51yrs) Monica Nwaeleke (50yrs)
Mabel Okoire (50yrs)
Chika Njoku (50yrs)
Grace Nkemakolam (50yrs)
Paulina Awunezi (50yrs)
Christiana Muonwuba (50yrs)
Margret Eze (50yrs)
Florence Egede (50yrs)
Rose Osuchukwu (50yrs)
Comfort Uti (50yrs)
Nnedinma Onuoha (49yrs)
Agatha Nwachukwu (49yrs)
Ijeoma Okorie (30yrs)
Uloma Ejiogu (30yrs)
Victoria Jacob (45yrs)
Vivian Ozuruigbo (30yrs)
Chinenye Imo (40yrs)
Chinyere Egbulom (38yrs)
Cynthia Onyebuchi (31yrs),
Chigbata Chinyere (38yrs)
Egesi Josephine (41yrs)
Hope Eze (45yrs)
Ikejiofor Amechi (44yrs)
Nkeiru Ajagba (45yrs)
Ngozi James (46yrs)
Nnene Nweke (46yrs)
Lucy Mary Kanu (21yrs)
Irole Goodness (30yrs)
Ogechi Okechukwu (30yrs)
Tochukwu Eze (38yrs)
Onyemaechi Ijezie (38yrs)
Ginika Awuzie (39yrs)
Vero Nnamani (30yrs)
Nkwoagu Chinenye (22)
Ijeoma Victoria Nnadozie (43yrs)
Blessing Udeme (25yrs)
Nnewuchi Obiageli (31yrs)
Ngozi Onyenwugo (22yrs)
Ruth Onwumere (45yrs)
Nkeiruka Ohanebo (45yrs)
Nzube Uwaigwe (22yrs)
Eberechi Iheanacho (39yrs)
Ego Nwafor (40yrs)
Chinyere Eze (32yrs)
Adaku Inyama (45yrs)
Ndidi Uchenna (45yrs)
Nneka Kingsley (38yrs)
Nkeiru Nwankwo (37yrs)
Chinwendu David (38yrs)
Juliet Nwaiwu (42yrs)
Juliet Innocent Onwuka (40yrs)
Chinyere Nwankwo (25yrs)
Nkeiru Orji (34yrs)
Joy Uwabunike (47yrs)
Nnene Ibeneli (38yrs)
Jane Isaac (25yrs)
Kelechi Emmanuel (40yrs)
Ngozi Nwajiaku (34yrs)
Ugochi Okwum (32yrs)
Ifeoma Emmanuel (42yrs)
Nkeiru Onyegbari (35yrs)
Eucharia Eke (42yrs)
Ijeoma Onyedinefu (33yrs)
Blessing Nnedede (26yrs)
Iheanyichukwu Ogueri (35yrs)
Ogochukwu Alaribe (35yrs)
Uchechukwu Okoro (48yrs)
Iheomachi Ejiaku (40yrs)
Uchchukwu Ahamuefula (32yrs)
Evelyn Usulo (38yrs)
Joy Chimezie (45yrs)
Precious Ogbonna (40yrs)
Obiageli Nwite (48yrs)
Ginika Ndibe (20yrs)
Chinelo Ugwueze (38yrs)
Nwachukwu Blessing (22yrs)
Rita Edet (29yrs)
Nnenna Okorie (36yrs)
Chinyere Eze (43yrs)
Iwuneme Bibian (45yrs),
Onuoha Ogechi (Age not stated)
Peculiar Nwachukwu (28yrs)
Felicia Ike (42yrs)
Obiageli Obumsolu (39yrs)
Ugonne Godwin (45yrs)
Kalunwoke Ekemiri (28yrs)
Nwauwa Cecelia (44yrs)
Igboka Ngozi, Angela Okeke, Blessing Aguama, Oguchim Chinedu and Mary Okorie(classified in their charge sheet as "adults" but possibly in their 70s).
Names of three young women including a sick patient and a pregnant woman who collapsed in the presence of Magistrate S.K. Kadurumba during their arraignment are not included in the above list.
en
SOURCE :The Nigerian Voice (local news)