13 Benue LG Chairmen defect from APC to PDP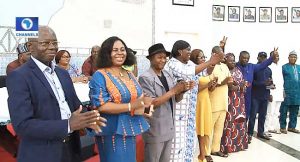 Thirteen out of the 23 local government chairmen in Benue State have defected from the All Progressives Congress (APC) to the Peoples Democratic Party (PDP).
The chairmen announced their defection to the PDP at the Government House in Makurdi, the Benue State capital on Friday, two days after Governor Samuel Ortom left the APC for the PDP.
Those who defected include Anthony Shawon of Guma Local Government Area (LGA), Justina Sorka of Buruku LGA, Mwuese Ubebe of Konshisha LGA, Blessing Unogwo of Ado LGA, Virginia Kpindi of Katsina-Ala LGA and George Alli of Otukpo LGA.
Others are Comfort Echeoda of Agatu LGA, Francis Ayaga of Gwer West LGA, Uaah Vitalis of Gwer East LGA, Richard Nyajo of Logo LGA, Ibellogo Tor of Tyokaa- Ukum LGA, Adakole Abutu of Ohimini LGA and Peter Onche of Obi LGA.
The decision of the 13 local government chairmen to follow Governor Ortom to the PDP is the latest in a series of major political decisions in the state over recent weeks.
Seventeen days before defecting to the PDP, on July 8, Governor Ortom dissolved his cabinet, retaining only commissioners believed to be fully loyal to him.
A day before his defection, the Benue State House of Assembly impeached Mr Terkimbi Ikyange, who had been the Speaker since Governor Ortom rose to power.
On Wednesday morning, hours before the governor formally defected, protesting youths barred him from travelling to Abuja to attend an APC reconciliation meeting.
In announcing his defection – to major political players in the state including the local government chairmen and councillors at the Government House – the governor explained that he took the decision after consulting widely. Channels Tv
en
SOURCE :The Nigerian Voice (sport)