2018: National Security Updates On Current and Growing Deadly Boko Haram Threat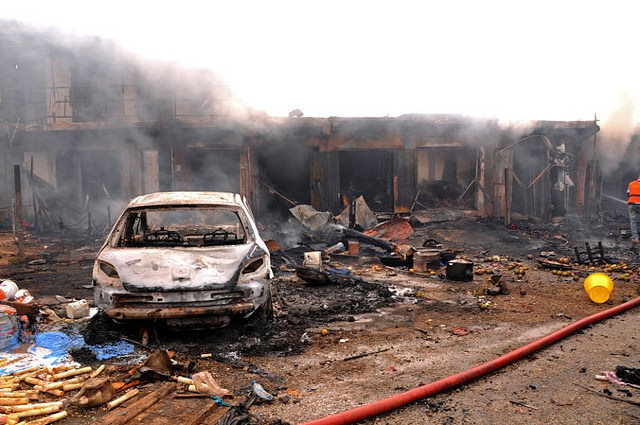 The Boko Haram terrorist organisation is far from annihilated as presented in a 2017 report by Eeben Barlow of Specialised Tasks, Training, Equipment and Protection International (STTEP), published in Harvard University International Review section, titled "The Rise, Fall And Rise Again of Boko Haram," See:http://hir.harvard.edu/article/?a=14477
Quoting Eeben Barlow this November from his FaceBook posting,
"The recent spate of Boko Haram attacks in northeastern Nigeria have negated President Buhari's claims when he assumed power in 2015 that the radical Islamist group (many being thugs who have hijacked the religion of Islam for their own purposes) had been 'technically defeated'. His narrative that Boko Haram was 'technically defeated' was false as soon as he uttered those words.
"There is, in a purely military sense, no such thing as a 'technical defeat'—something the President, as an ex-military man ought to know."
The Truth from Voices in the North East
Boko Haram is still a clear and present danger. The terrorist organisation is strong in numbers, equipment and tactical capacity. Swathes of territory in the northeast especially Borno state are largely in the hands of Boko Haram or are no man's land, paroled by Boko Haram terrorists.
Liberated citizens largely exist in Maiduguri and IDP camps which have been turned to semi permanent encampments.
Taxation and Harvesting
Boko Haram terrorists tax locals across Borno state. In this capacity they operate as a government in a scene, sending officers around to farming and fishing villages to collect regularly. Taxation is employed mostly by the Al-Barnawi sect which only attacks military and does not kill civilians.
In addition to taxes, Boko Haram terrorists during the ongoing harvest season, harvest what the farmers have nurtured since planting season. Terrorists simply push off or kill the farmers and harvest their farmlands. The saying, "reap where you did not sow," is what is at play here. The terrorists also often burn down the entire farms to impose hardship on the people.
Recent Jimeni Attack
The recent Boko Haram attack at Jimeni, outskirts of Maiduguri, puts the reach and capacity of Boko Haram into full perspective. The villages attacked are barely 5 kilometers from Jiddari Polo suburb of Maiduguri, near the famous Giwa barracks.
When Boko Haram came, people in the neighborhood of Maiduguri were advised to run. Military barracks' nearby did not move to repel the attack on Jimeni. The people in Maiduguri reported seeing a red sky above the villages as the entire villages were set on fire.
Pacts Between Terrorists and Nigeria
There appear to be mutual pacts between the terrorists and Nigerian authorities and the people to each stay in their lanes. The terrorists have warned certain farmers to not go to their farms. A recent farmer slaughtered according to witnesses was accused of violating the orders of Boko Haram and daring to continue going to his farm.
Money and Ammunition
Boko Haram continues to rack up treasure chests of money from deals with the Nigerian government. Each successful abduction negotiation gives the terrorists untold millions of dollars paid secretly by Nigeria's national Security Adviser. Thus the terrorists are encouraged to make new abductions and are able to wield influence and gain tactical advantage to continue their rein of terror.
Boko Haram terrorists also continue to overpower the poorly equipped, poorly fed and low motivated, struggling soldiers of the Nigerian army who accuse the military and national security high command of using them to make money. In the process the terrorists seize the best equipment from the soldiers which gives them additional advantages each successive outing.
Boko Haram is on a "next level" with new military reports complaining that the terrorists now even use drones and have enough funds to hire many foreign mercenaries.
Nigerian Troops' Capacity
Billions of dollars allocated for national security spending can simply not be accounted for. Soldiers complain of not being paid their basic salaries and many who died in the recent Metele attack that claimed as many as 200 lives, were reportedly owed their allowances till they died.
Soldiers are on extended rotations in the northeast and many have resorted to also begging the locals for food and daily essentials. Soldiers have also been reported to catch insects and snakes to cook and eat. The effect of this suffering cannot be overstated.
Soldiers also routinely tax citizens to provide them service and security. The current rate is N500 for soldiers' escort of commercial vehicles from Mdiguguri to Damboa. Convoys of vehicles are seen with the paid military escorts daily. There are many other similar schemes in operation. This exploitation continues to destroy the fabric of Nigerian civil and defense society.
There have been many riots by the soldiers in the past years with the army punishing and forcing the soldiers to hush to avoid what the top command sees as embarrassment to it and it's loyalty to the ruling political party.
On the topic, the attendance by Nigeria's Service Chiefs at the campaign launch of the ruling APC political party, has widely been condemned as not only a distraction from service to keep the nation safe, but also an unconstitutional political endorsement ad alignment which defeats soldier morale and promotes security services involvement in election rigging. The politicization of the security services and political instability in Nigeria has always been directly related to the terror level.
At a size of about just 200,000, Nigeria has a very small military force. In addition the nation has a very tiny police department. The military continue to be deployed to police the country in the stead of the police who as the police chief admitted are mostly deployed to protect the wealthy of the country. With the army spread thin acting as police around the nation, the forces fighting Boko Haram are few, stretched thin and over used. Nigeria's military are also used for politics. Thousands of soldiers were deployed to protect a recent APC convention in Abuja Soldiers are also used by those in power to create and intimidation presence during elections.
Freeing Terrorists
Nigeria's president has freed tons of terrorists. The freeing of terror masterminds in deals with Boko Haram along with the secret payments of millions of dollars continues to revitalize and rejuvenate the terrorist force. The Kano mosque bomber responsible for the deaths of over 200 Nigerians was reportedly released during one such deal. Several other Boko Haram field generals and terror masterminds have reportedly been released in such deals with some coming right out to release statements against Nigeria after their release from Nigeria's prisons. Former president Goodluck Jonathan was staunchly against the swaps and releasing terrorists back to their units. The current regime has freed an untold number of terrorists. Legal sentences for all of about 2000 terrorists in Abuja have been held in secrecy with sentences for known murderous terrorists being as low as months to a few years.
The compassion for terrorists by the current regime makes terrorism a more lucrative venture in the northeast compared to those in IDP camps who live hand to mouth and routinely die of starvation.
Conclusion
Radical changes to Nigeria's political climate and leadership system with total overhaul of the nation's security departments is the only way to win the war on Boko Haram terror. Boko Haram terror and the war on terror remains a lucrative cash source for military and politician corrupt leaderships. This impetus to keep the war going must be radically severed.
Top military officers in Nigeria with a life time record of only being employed under the military are known to be billionaires with wealth and property across Europe and the Middle east. There is no repercussion for corruption and failure, with the military used for political purposes and rewarded mainly on their dedication to ruling party and governing politicians. Until this ends and the military is restored to its impartial role and failure leads to subpoena and court marshaling even for the military top command, will Nigeria exit its place as the most terrorized nation on earth.
Dr. Perry Brimah, Whatsapp: +234-903-420-3031; +1-929-427-5305; @CabalMustGo; @EveryNigerian
en
SOURCE :The Nigerian Voice (opinions)