2019: Aspirants Forms Coalition In Delta State, adopts One Political Platform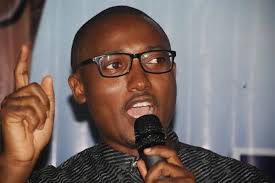 By Kenneth Orusi, The Nigerian Voice, Asaba
In their determination to rescue power from the ruling Peoples' Democratic Party (PDP), in Delta State, aspirants from different political parties, who are fed up with the status quo of Delta state and Nigeria have resolved to do something meaningful about it.
The strategic group of outstanding, young, energetic, intelligent, innovative, vision driven and very successful individuals in their various chosen fields of endeavor, who as respectful In a bid to rescue Delta State, but with the understanding that as individual aspirants, they could do so little but would do so much with great results if they come together, have chosen Comrade Frank Ufuoma Esanubi, as their governorship candidate under the platform of African Action Congress (AAC).
In a communiqué obtained by The Nigerian Voice, the aspirants said: "After several meetings and consultations across the length and breadth of the state, assessing the situation on ground as it affects governance, service and representation of the people of the State at all levels, have came to an inevitable conclusion of overhauling and infusing fresh minds with new ideas into governance in the nation and state legislative representation".
According to them, "We agreed we can achieve success through sacrificing our contributions to and benefits from our various parties for the people of Delta State and Nigeria. We unanimously agreed to stand for election together as one, the alternative, and the special one, 3rd Force to become first one in 2019. We resolved this by all aspirants fairly, transparently and democratically voting for one of their Party as the sole party that all aspirants will stand with for the 2019 elections. The Majority of votes favoured the African Action Congress.
"Consequently, we individually and collectively hereby resolve to run for the various offices attached to our names on the platform of the AAC. That for the avoidance of doubt and going by the process in the aforementioned, we are not defectors but patriotic statesmen and women who believe the labour of our heroes past shall never be in vain, in turn, sacrificing our time resources and efforts for our people with so much understanding that at some point some may have to respectfully step down for others even though they were equally better just to form a formidable line up that will serve the People of Delta State and Nigeria.
"We therefor further resolved to collectively, strategically and productively restore hope to our people through good and effective governance from the Government House, highly distinguished people-oriented representation from the Senate, House of Representative and State Houses of Assembly from all 25 Local Government Areas of Delta State with purpose driven Leadership.
"As a people we have suffered for too long, but a new Dawn has come, A new Delta State and indeed a new Nigeria, it is time and we have resolved at the African Action Congress, to take it back, restore and revive Delta State and Nigeria", they added.
en
SOURCE :The Nigerian Voice (local news)