2019: Noah's Ark and the impending Deluge under Buhari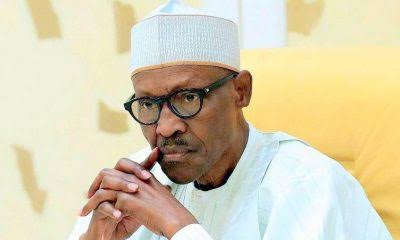 *How many of Buhari's followers often get on the plane to seek medical attention abroad when they fall sick? But Buhari does this at the drop of a hat and what makes Buhari's health more important than theirs when every man is supposedly born free and therefore equal in right and dignity?
As Nigeria journeys towards another election year with many political gladiators girding up their loins, it is of extreme importance to see the calibre of men aspiring again for elective offices as our previous experience has been one of unmitigated disaster considering the abysmal failures of the incumbent government.
The present administration which was unsolicited in the first place you all agree with me rode to power on the back of deceit, lies, intimidation as all means were employed to harass the Jonathan government out of power. Today, we are again on the same boat piloted by our captors whose style of governance could only be likened to the Maoist one-party ideology which is only typical of totalitarian regimes.
We find these at different points in history in Nazi-Germany and Fascist Italy whose leaders at the time ruled with a caprice. While the former was noted for the worst brutal repression the latter was notoriously noted for its oppressive intolerance of dissenting voices.
In the World War 11, the above-named who led these two outposts of tyranny held civilization to ransom with threats of violence that inevitably altered the history of the world. Over two million Jews were reportedly murdered while others were confined in concentration death camps.
These, you will agree with me, were sad and trying moments in human history and a similar scenario is dangerously unfolding in our fatherland considering the spate of criminal killings in some parts of Nigeria particularly the Benue-Taraba axis by Janjaweed armed militias smuggled into the country from the Islamic Maghreb by a tribe of heartless death merchants.
The lamentations, frustration and soaring unemployment figures have brought about an upsurge in crimes of varying degrees with its attendant demographic effect as many of our youths leave the country in droves in search of greener pastures abroad. Their host communities have had to contend with their excesses with Italy, for instance, hard hit.
Back home in Nigeria, there is every reason for the mass drift abroad to continue as there appears no sound economic policy in place to discourage the obviously sad situation.
There is no denying the fact that Nigeria under the present regime in Abuja has not been able to meet up with its obligations to its people which is visible in every facet of our national life. The government has failed in its statutory duty and responsibility to protect the rights to lives and property. Today, there is no end to the ongoing criminal killings amid abysmal failures to positively address the issues that affect us as a nation.
How much longer would Nigerians wait without the Biblical Noah's Ark positively and effectively mobilized to brave the strong currents of the impending Deluge? Our political class has failed the country and this embarrassing failure is only attributable to their selfish interests and personal aggrandizement.
Many contenders have thrown their hats into the ring to run for the highest office in the land. There are so many of them with a genuine sense of purpose and sincerity to rescue the country from these cast of neophyte actors whose mediocrity has dragged our country to abysmal depths thus reminding us of the compelling need to beam our searchlights elsewhere to source for credible leaders with a genuine intent to lead. It, therefore, behoves us to draw attention to this pathetic situation by casting blind partisanship overboard.
It is time, I dare say, to rescue our nation from the APC-led Federal Government and their supporters who see President Buhari as the proverbial Homer that never nods in spite of the ongoing killings, poverty, hunger, frustration, marginalization and economic stagnation which is tearing the country to shreds.
There is no denying the fact that Nigeria's ruling party has suddenly been singing discordant tones and ultimately metamorphosed into a bundle of contradictions and ironies. Democratic ethics and ethos have been thrown to the winds so much so that vocals voices of the party who challenge the status quo have been marked out for elimination
Nigeria's maverick Senator Dino Melaye representing Kogi West Senatorial District was branded a rebel and every machinery was set in motion to bring him down which his constituents openly resisted in the last disastrous election recall.
Senator Shehu Sani, another vocal voice who often decries the evils of the day within the ruling party was recently labelled a murderer via a trumped up charge.
Today, it is Dr Bukola Saraki, the President of the Nigerian Senate. His sins are that he summoned Nigeria's Inspector-General of Police who has consistently refused to appear before the hallowed chamber to tell Nigerians about the measures taken to address the security lapses in the Benue-Taraba axis.
Tomorrow, it could be you or I under the existing circumstances. You never can tell!
Now the question that agitates this writer is that why the ongoing clampdown of anti-Buhari vocal voices within the ruling party? We are, of course, aware that dictators always have a cause for their actions. It is, therefore, a thousand pities that followers and supporters often buy into their obnoxious charade!
Having said that, however, leadership is not all about repression, intimidation but motivation, humility, honesty, integrity, empathy, creativity, innovation and so on.
Be that as it may, Nigeria parades a good number of presidential materials to navigate us out of the stormy waters foisted on us by the incompetent regime in Abuja. In fact, there are a good number of contenders in whom the above-mentioned qualities are encapsulated.
It is not in dispute that Nigeria lags behind in today's world and under these very unfortunate circumstances, who she needs to get us ahead in today's fast-paced world is none other than a leader with creativity and innovation, in fact, a leader who is capable of changing and developing the Nigerian clock of time from analogue to digital.
Recently, it was widely reported by the world press that where President Buhari yet again disparaged Nigerian youths after he had previously told a British newspaper that Nigerians have a penchant for criminality which makes them unwelcome in the UK.
Again, recently during the Commonwealth meeting in the UK which was well attended by the Commonwealth Heads of states and Government, President Buhari reportedly said, Nigerian youths are lazy who rely solely on the country's oil wealth.
It's very unfortunate that a father could wash the family's dirty linen in public the way he did. The ability to motivate one's people remains one of the fundamentals of good leadership but fortunately or unfortunately we find these qualities totally absent in the incumbent president Buhari for he has at different points in time dragged Nigerians' name through the mud and this dates back to 1983 when he first made an incursion on the Nigerian political scene.
Came with Buhari at the period under sad review were hunger, frustration, brutal repression, poverty which triggered a palace revolution.
An incumbent president only canvasses for a second-term to build on previous achievements. Today, there is no denying the fact that there is absolutely nothing on the ground to warrant his return to power after our ongoing disastrous experience characterized by hunger, unprecedented poverty, killings, insecurity and economic stagnation.
Buhari together with his All Progressives Congress, if you ask me, has no moral basis to seek a return to power after the appalling abysmal depths his incompetence has plunged Nigeria into.
I have spent over 2 decades in this part of the Old World and have not only witnessed but experienced and felt in no small measure the effects of good governance. The best campaign strategy any party could have done to dislodge the APC from power, if possible, would have been to ferry or simply airlift Nigerians to spend at least seven calendar days in this part of the Old World – Europe to be precise to feel and see the impact of good governance for themselves.
You see, many of them have become hypnotized by blind partisanship and in the process get themselves inured to hardship and extreme poverty. How many of Buhari's followers often get on the plane to seek medical attention abroad when they fall sick? But Buhari does this at the drop of a hat and what makes Buhari's health more important than theirs when every man is supposedly born free and therefore equal in right and dignity?
Buhari's three years have been nothing short of sorrow, tears and blood as killings and other heinous crimes continue to ravage every nook and cranny of Nigeria with undiminished intensity.
This is why it has become absolutely necessary to scout for his immediate replacement before we all find ourselves in dishonourable graves if one may borrow a hackneyed quotation from Shakespeare.
I am not an ethnic jingoist. My love for Nigeria runs from the shores of the Atlantic in the South to the Sahelian plains of Northern Nigeria.
In Major Hamza Al-Mustapha (rtd) is whom one can find all the above-named qualities which he has displayed by works and deeds. In Al-Mustapha's presidency, major issues that are presently endangering and rocking the boat of Nigeria's corporate existence as a nation I am sure, in all honesty, will be duly addressed.
Sometimes, I often stand in awe of his humility seeing that his desire to lead Nigeria is not borne out of personal aggrandizement having been there. Al-Mustapha had the chances to rule Nigeria if he was ambitious – Mark Brutus in the play titled Julius Caesar – told the Roman Plebians that he had to unavoidably stop Caesar from becoming the King of Rome because Caesar was ambitious.
Al-Mustapha was never ambitious because he had all the chances in the world to become Nigeria's military Head of State when his principal died with booths on.
His intelligence which got him noticed by his late principal is another thing that would benefit Nigerians immeasurably which ought to give Nigerians that magnetic pull to him. Nigeria at this point in time is dire need of an intelligent leader that can get us ahead in today's world all things considered.
Al-Mustapha presidency I have no doubt will reposition Nigeria on the path of greatness, progress, economic development and prosperity.
*Iyoha John Darlington is a political analyst, social activist, a public commentator on national and global issues and until recently the International Media Correspondent of the Green Party of Nigeria (GPN).
en
SOURCE :The Nigerian Voice (opinions)