42 Houses To Be Demolished For Ondo Sports Project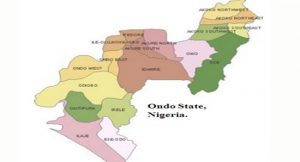 The Committee on Acquisition of Buildings around the Akure Sports Complex has submitted its report to the State Government, noting that 42 properties have been identified for acquisition for the expansion of the stadium.
The Committee led by its Chairman, Mr Phillip Akinbola, submitted the report to the Deputy Governor of the state, Hon. Agboola Ajayi on Friday at his office.
The constitution of the committee came on the heel of the collapse of the popular side of the stadium by the wind, recently in the state.
The chairman while delivering the report explained that 42 properties have been identified for acquisition for the expansion of the stadium including a public primary school and one vacant land.
He added that the committee also made some proposals for the expansion of the stadium in the report for shopping mall and other facilities that will generate revenue for the state.
Receiving the report of the committee, the State Deputy Governor, thanked the members for their service.
The Deputy Governor pointed out that the state government is fulfilling its electioneering promises to the people of the state, adding that it will continue in that direction as well as the payment of salary of civil servants in the state.
Ajayi assured the committee of the government's commitment and readiness to work on the report, adding that the government is working to make life meaningful for the people.
He charged the Ministry of Physical Planning and Urban Development to work hard as it has a lot to exercise in terms of professionalism in its duty before giving approval for any erection of filling station in the state, stating that the Ministry has compromised in its course of duty as some filling stations were not duly screened before giving approval.
In his comment, the State Head of Service, Barr. Toyin Akinkuotu thanked the state government for being proactive to ensuring the stadium destroyed by the wind is renovated.
Source: Channels Tv