A Call To All Nigerian Patriots To Protest For Total Security Overhaul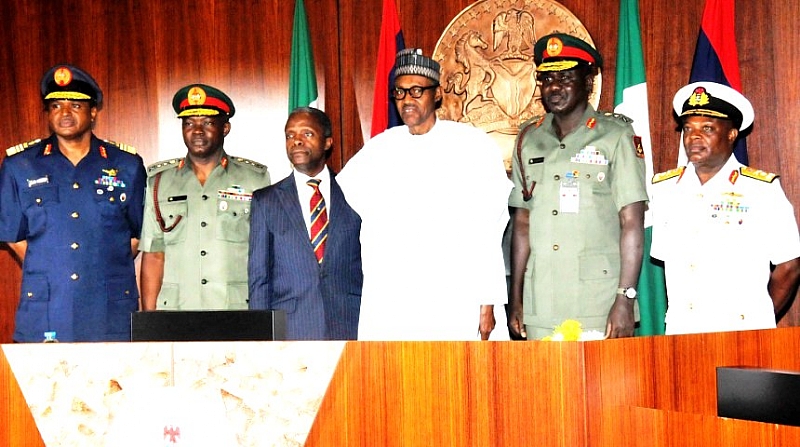 Fellow Nigerian Patriots,
Zamfara governor Abdul'Aziz Yari just stepped down as CSO of the state. He complained and I quote from the Vanguard:
"We have been facing serious security challenges over the years, but in spite of being governor and Chief Security Officer of the state, I cannot direct security officers on what to do nor sanction them when they err. As Chief Security Officer, the nomenclature is just a name". The governor lamented that it was disheartening that killings in the state had continued in spite of the President Muhammadu Buhari's order to security agencies to end the incessant blood-letting across the country. "Since the president's order, the killings have not stopped. In a week there were attacks in this state which claimed over 30 lives."
Our brothers and sisters, our mothers and fathers are dying. They will never come back. They will not witness 2019.
Those of us yet alive have a CIVIC RESPONSIBILITY to demand TOTAL SECURITY OVERHAUL.
To this effect the ENDS human right advocacy organization and other right groups call on all patriotic and conscientious Nigerians to embark on nationwide protests at police headquarters', national assemblies and government offices and Nigerian embassies.
I personally will kick off at police headquarters Abuja on Monday 18th June God Willing & we invite all patriots in Abuja to join us that noon..
Our demands:
1. IMMEDIATE Retirement of Security service chiefs!
2. Redeployment of the 80% police currently assigned as bodyguards for the wealthy cabal as admitted by IGP Idris, to secure the masses.
3. Redeployment of SARS to pursue killer Boko Haram terrorists hired by the cattle owners, rustlers and farmers.
4. An end to SARS after above item #3.
5. Return of the military to rest in the barracks.
6. Trial of all security agents and heads implicated in massacres and secret burials of protesting youth across the nation. (Zaria massacre, Onitsha and Umuahia massacres, senator Lafiagi Kwara massacre etc)
7. The Arrest of senate president Bukola Saraki as is constitutionally ordained based on the publicity indictment charade by the police. Once police accuse a citizen of arming terrorists, IT IS A MUST THEY IMMEDIATELY ARREST HIM.
8. For IGP Idris to be held to account for "flouting" Buhari's orders to keep a special force to protect the poor people of Benue as Buhari alleged.
9. The immediate decentralization amendments to create state police and restore regionalism.
10. 100% monitoring of "Security Votes" allocation and FULL PUBLIC Disclosure of disbursement.
Please do not wait for us in your state or at the Nigerian embassy in your country. This is YOUR civic duty. You are the leader others shall follow.. You are the one Nigeria is waiting for.
Confirm your RIGHT TO ASSEMBLE AND PROTEST WITHOUT POLICE AUTHORIZATION:
*Police Permit Not Required For Rallies in Nigeria, By Femi Falana*
Police Permit Not Required For Rallies in Nigeria, By Femi Falana
Contact me with suggestions and questions or to join the Abuja rally:
Dr. Perry Brimah, (2019 Presidential Candidate) Tel: +234-903-420-3031; @CabalMustGo; @EveryNigerian
Hashtags: #SecurityOverhaul #TiredOfDying #EndSARS
#PoliceProtectionNotOppression
Our fight for our right to life commences June 18th!
TOO MANY INNOCENT LIVES HAVE BEEN LOST. THEIR DEATHS MUST NOT BE IN VAIN. IT IS TIME FOR THIS DEADLY IRRESPONSIBILITY TO END ONCE AND FOR ALL. VULNERABLE NIGERIANS CANNOT AFFORD TO WAIT TILL 2019! THE POOR PEOPLE OF BENUE, TARABA, ZAMFARA, ZARIA, ADAMAWA, BORNO, ONITSHA, ENUGU AND SO ON DEPEND ON YOU!
en
SOURCE :The Nigerian Voice (opinions)