ACHUZIA: Burial Committee Warn Against Display of Flags, Placards, Uniforms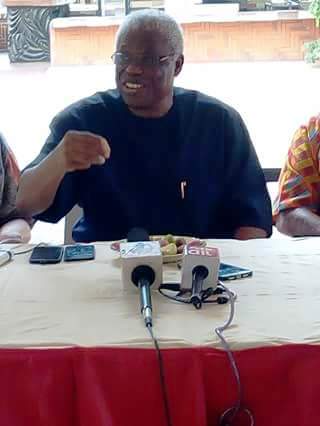 By Kenneth Orusi, The Nigerian Voice, Asaba
As the final burial rites of the elder statesman and former warlord, High Chief Col. Joe Achuzia, commences from 9th April, 2018, the Burial Committee has revealed that flags, placards and uniforms depicting any form of groups would not be allowed at the burial.
Briefing journalists in Asaba, the Chairman of late Col. Achuzia's Burial Committee, Ogbueshi Ojiofor Onyia, announced that the traditional funeral for the former war veteran would commence from the 12th of April, 2018, adding that prior to the date, there would be a Night of Tributes in his honour on the 9th of April at a tentative venue of the Sports Club in Enugu State.
Onyia posited that though security is a top priority in the burial arrangement, no form of demonstration or inciting speeches would be allowed anywhere near the burial ground.
The Chairman affirmed that while the proper funeral ceremonies would commence on Thursday 12th April with a wake keep, Friday 13th April would take care of church services and others.
He however, declared that as a typical traditional chief, late Achuzia would be buried sitting on Saturday 14th April after his body must have been revealed to those who care to see him in the morning of same Saturday.
According to him, this would follow with the traditional Egwu Ota to mark his final journey to the great beyond.
Chief Onyia disclosed that the Delta State Government is involved in the burial, as well as the five Eastern Governors, affirming that the burial of the elder statesman is a burial of honour and peace; thereby admonishing every group that would be participating to abide by that rule and not use the occasion to propagate inciting agenda.
Moreover, it is worthy of note to emphasize that while the Col. Achuzia's burial is a national one, the leadership of Ndi-Igbo had declared it an Igbo burial, as a result would be playing prominent role in honour of the man who entirely stood for the Igbo course.
At the press briefing however, members of Ohaneze Ndi Igbo were represented, as well as Ala Igbo Development Foundation, the Biafra Movement, Brotherhood of the Cross and Star and other organizations.
Meanwhile, those who were with the Burial Committee Chairman during the press briefing, included; Mr. Oseluka Joseph Achuzia (first son), Mr. Onyeka Ben Achuzia, Pat Ngozi Achuzia, Chief Oba F.C., Hon. Emmanuel Mok, Mr. Chukwuma Okonicha, Bishop Onwumere Ekeh of the Brotherhood of the Cross and Star, Dr. Ijika, Mr. Silver Oforgu and others too numerous to mention.
The veteran soldier who fought in the Nigerian civil war on the side of the Biafra and also one of those who initiated an end to the Biafra struggle in the interest of peace, late Col. Joe Achuzia died at the age of 90 years.
en
SOURCE :The Nigerian Voice (local news)