Actor, Yul Edochie Officially Welcomed into Winning Party APGA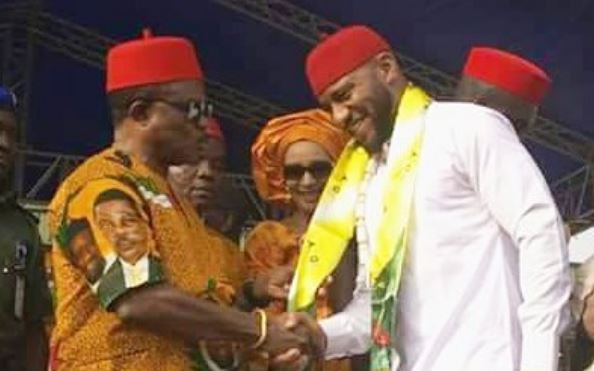 Source: Nathan Nathaniel Ekpo/Nollywoodgists.com
Nollywood actor, Yul Edochie, has not disappointed many who had predicted his faith after the just concluded Anambra state election which saw him taking the least vote.
Yul had some months back joined the race for the powerful seat in Anambra state but could not get the needed votes that could have put him on the big seat.
He was actually running under the Umbrella of the Democratic People's Congress (DPC), and he took his campaign door to door to ensure that he uses his popularity to sanitize the people.
During his campaign, many had predicted that he was not going to win and there is possibility of him defecting to the winning party and indeed he has not failed as he has actually defected to the winning party which is APGA.
The actor shared pictures of the governor of the state, Willie Obiano, officially welcoming him to the party as they hope for better working days ahead.
According to him, "So yesterday my State Governor His Excellency Chief Dr. Willie Obiano (Akpokue Dike) congratulated me for being brave enough to run for Governor at 35yrs old,
for running the race till the end and for being a worthy ambassador to Anambra/Nigerian youths. He officially welcomed me into the APGA family. (Nkea bu nke anyi)."
en