Actress, Cossy Orjiakor Reveals Why She Stopped Going to Church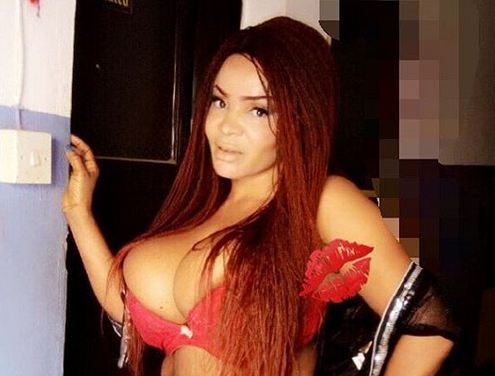 Source: Nathan Nathaniel Ekpo/Nollywoodgists.com
The arrest of controversial journalist, Kemi Omololu Oluloyo, has become a subject of discuss on the various social media platforms and some entertainers are not happy with the situation of things.
Kemi was arrested by Porthacourt based Pastor, David Ibiyeomie, based on a defamatory statement alleging the pastor of having an affair with an actress.
Part of those that have come out to criticize the actions of the claimed man of God is Nollywood actress, Cossy Orjiakor, has given the Pastor a thumb down considering the way some of them molest ladies in church and go free.
Analysing the situation, the actress recalled various scenes that has played out to her family even with the dog incident which was just a fake role played and that got pastors in her parent's church mocking them.
Read below her revelations of what some pastors do;
I expected Mrs kemi …to be locked up by her father, Obasanjo, Mr Kosoko or other Actors…but a pastor!!!!. Hahhaha that really beats my imagination. Well…. Maybe I should have reported each and every pastor that defamed me during the dog saga. Yes they preached… During the ordeal….. after the whole frame up. I was hurting. I was alone. I was a poor Little girl trying to find her way.. Trying to understand life. I was called all sorts of names. …pastors preached. The congregation moaned and rain curses to the name that brought shame to womanhood.. Hahahhahahha. My mum was in church somewhere in Abuja. The pastor preached about this fake sermon. The lust after money… The girl that slept with dog just for #10 ,000 dollars, Who is she then to challenge the pastor.. Well she was just the mother to the girl that supposedly slept with dog. She simply left the church and never went back. My father wasn't spared either. In Anambra, they gathered in the church and went to my village house to rain curses on the girl who brought immense shame to the church and the village. My father knew it was just a movie. So never really cared. I was withdrawn. I was hurting. How can an award winning performance I was paid only #30 ,000 naira bring me so much head ache and pains. How can the pastors believe such lies. Didn't they call on God for guidance before preaching and prosecuting me back then. The magazine made lots of money off the image they created of me. I thank God I didn't take a leap of fate into the now popular eko bridge… The people I looked up to described me in unimaginable ways. That's when I really decided that most pastors have lost touch with God. I forgave them all. The magazine… The pastors. … Do you know the true identity of the man that turned me in to a pimp?…… Do you know the true identity of Iyanu?… Same old stories…… I leave you to do the calculation. Because Mr? Real profession is written in ungrateful Delilah. And if they come after me again Hahahahahhaha…. Everyone goes down
SOURCE: The Nigerian Voice (entertainment)