Actress, Ifeoma Okeke Reveals How Singer, Vast of Bracket Helped her Foundation from Hospital Bed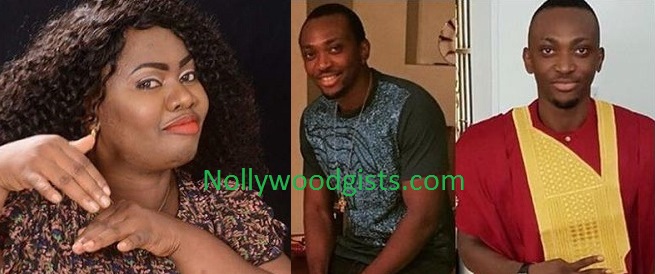 Source: Nathan Nathaniel Ekpo/Nollywoodgists.com
Wonder why Nollywood actress, Ifeoma Okeke, rarely associates with people like that, well, the actress has been taught several lessons in life which made her kind of restrict herself and very picky on those she calls friends.
The actress recently wishing singer, Vast of the Bracket fame, a happy birthday, disclosed that when those she called friends turned their back on her, it was the singer that stood by her.
Ifeoma in her message disclosed that she has never met the singer before but only likes his pictures on social media and when she needed facial support of her friends, they turned her down and she seeked for his presence and it turned out to be financial support.
"2016 Nov/Dec I was planning my CHRISTMAS CAROL & PARTY FOR THE LESS PRIVILEGED. The event was a Test to my God to give me answer and he did. I needed God's own REVALIDATION not any man, God did prove himself thru some special people & this special guy. He wasn't even a common friend, we haven't met, I only like he's pictures few times & commented. During this period I have called "friends", "colleagues", most of them promised to support & when I started sending remind I knew the sweet answers I got. I wasn't just asking financial support, I was asking for PRESENCE support which was most important.
"Everybody had their own charity "thing" even people I can go extra miles for started giving me attitude but trust me I never complained or got angry. So on 24th November exactly 1:38am I sent same message I do to others to this kind man who wasn't even my friend & he replied immediately & in he's words "NNE I WILL BE IN LONDON THAT PERIOD…I WILL DO A PET SCAN. AND DEPENDING ON THE RESULTS I MIGHT NEED A ———-BUT I CAN SUPPORT FINANCIALLY." I moved to tears & the next thing he said was "JUST GIVE ME AN ACCOUNT LET ME PAY IN SOMETHING". I didn't reply in my head I was like who send me, bcos of what he told me, then he went all over again to ask for the account 3good times. I sent my foundation account thinking maybe he will pay 20k highest 50k . Immediately I sent the account he's said "I PAID 100k PLS MANAGE". My kidney 1st burst #inefevoice . I jumped out of my bed. I cried😭, i was shouting with tears 😭 in my eyes, WOW, I got my answer from God about the event. MY NWANNEDINAMBA, I haven't said a better THANK YOU. And today am saying THANK YOU VERY MUCH, Mày God bless you for me, You'll never lack, kings & queens will beg to favor you, good friend is what God will decorate your life with & HAPPY BELATED BIRTHDAY NNAM."
SOURCE: The Nigerian Voice (entertainment)