Actress, Uche Ogbodo Looks Like Transgender…Fans Blast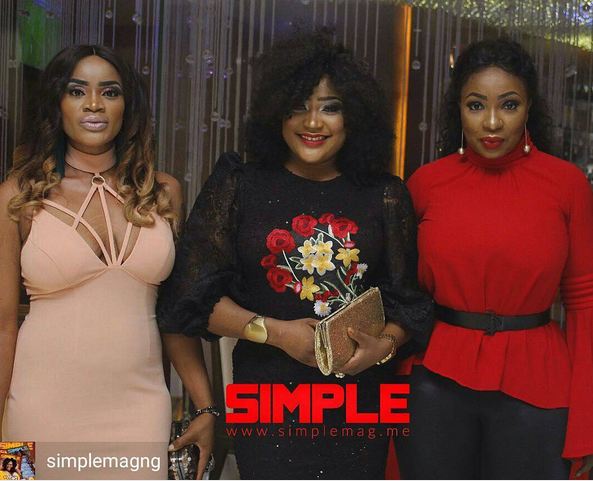 Source: Nathan Nathaniel Ekpo/Nollywoodgists.com
Nollywood actress, Uche Ogbodo, has for some time now enjoyed some fresh air as she managed to escape the text lashing from her fans but the escape could not last long enough.
A recent photo of the actress along with her colleagues, Anita Joseph and Uche Elendu, was shared and Uche Ogbodo, got another bashing.
This time, fans complained of her new look, the makeup and trimming of her body just to look slim which they see as the worst mistake she will ever make.
official_uchmoney1: abeg dz ur friend on the left is metaphoring ohhh to something [email protected]
beauty4eva99: Hmmm sorry to say this uche ogbodo you shouldn't have dressed like this knowing you have stretch marks on your breast it's so embarrassing please let's stop attracting unnecessary insults from people.
pwety_cy: Y did u forget to edit this photo na see madan Uche she's not just………lemme be going b4 i collect hot slap
chidy_chidy: Gini mere iru Uche?
omograndma: Is that person a transgender?
kelvinhairstyles: ucheogbodo u have change, I knw u to be very beautiful woman (sad) what's up?
seppymass: her makeup is also not so good it has aged her uche ogbodo I love you, I love the dress but the make up, no dear… Maybe it's the pic but this makeup not good… Love you all the same
seppymass: I wonder oo, she looks manly
beauty4eva99: honestly, looking so ugly, she is no longer fresh and good looking like the ucheobodo I use to know
beauty4eva99: Just look at uche elendu upon she have kids, she is looking so presentable
anitajoseph8: You guys stop
en