Ademola Adelleke: A Man Of Destiny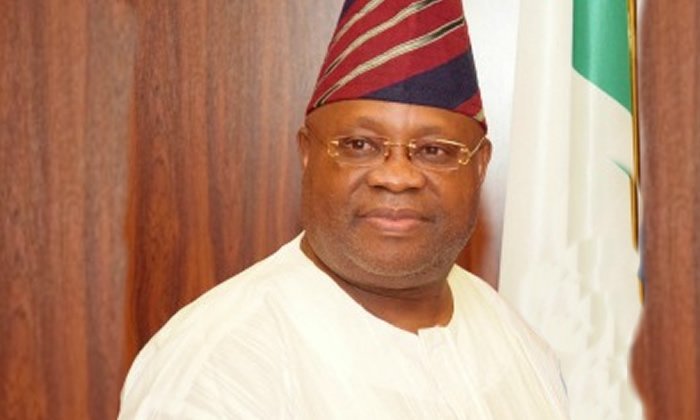 He has been mercilessly maligned. He has been destructively demonized. He was turned into an object of ridicule. He became a punch bag of comedians. He was used as an effigy of unseriousness.
Since he landed as the Senator representing the Osun West Senatorial District with a bang on the platform of PDP, defeating the APC candidate supported by the incumbent governor of the State, Mr. Rauf Aregbesola, the vanquished and their sympathizers have been embittered.
They hate him with a passion. They appropriated and employed their propaganda machine to humiliate and ridicule him, at the slightest opportunity. They sulk, pout and whine all over the social media. The hypocrites who forced someone who never finished high school, someone without a heart, on us as Nigeria's President are whining. Odiously dressed in the garb of moralists, pompously perched on the tethers of the lectern, they are preaching to us why someone who finished high school but who has a heart, should not be our Governor in Osun State.
In spite of all the efforts of the detractors, the Osun people are not deceived. They refuse to be misled. They are the ones who wear the shoes, they know where the shoes are pinching. They have been taught a bitter lesson by the Bourdillon bandits. They have been sold 419 by the Lagos boys. They are upset about the epithet of "ÒSÚNGÒ," meaning that the Osun people are foolish and dumb. Now they have proved that they're not.
When the APC propagandists accuse the Osun people's Governor -in waiting, Ademola Adeleke of dancing, the Osun people responded by saying they wanted someone with a joyous heart. Someone without minutest guile in his bone. Someone who is one of them, devoid of arrogance, humble and could feel their pulse.
Adeleke has a trajectory. His father was a Senator who had the trust of the people of Osun State. His words were his bound. Then his elder brother Adetunji Adeleke became a Governor. He also became a Senator thereafter. And the people loved him. They appreciated him. He had a place in their hearts. He was preparing to return as a Governor when he was reportedly poisoned and murdered. The people were aghast.
They voted Ademola Adeleke in his stead. Ademola was given the opportunity to carry the banner of the family, and with it the hearts and hopes of the people. They rewarded a family that has always seen the people as epizoites rather than parasites.
In less than two years as a Senator, he proved he is a true son of his father. He danced and delivered. He gesculated and gave. He proved to be kind and considerate. He proved that he loves his people and that their welfare is his concern. He is accessible. He is humble. He is determined. He is confident. He is focused.
The dancing of Ademola, that jiggling and joggling by him; that non-beguiled beguine of his, that swirling, swiveling, swooning and swooping by him are emblematic of a free spirit. A spirit that is joyous, excited and enthused. Repeatedly, he exuded a spirit that is unhindered, unpretentious and unperturbed. It is a spirit that is unbounded, unchained and unencumbered. It is a spirit that is unscripted, undoured, unsoured and uninhibited. No dreariness. No moroseness. It is a genuine spirit, and for real. The people of Osun liked the dancing. They love it. They had no complaints about it.
The people of Osun see in Ademola Adeleke, a beautiful heart void of gouging. To them, what is being exuded, without any iota of duplicity is a heart of gold, happy and grateful to those who voted for him. All the complaints you hear are nothing but sour grapes that sprouted from pains of defeat and obvious bitterness. Employing their usual tool of heinous propaganda, they adorned putrid apparels of hypocrisy, pouting poisonous puffs to smear the joyful newly elected Governor – in – waiting, Ademola Adeleke. That is what it is. It is why the people of Osun are not panting about the padded spat.
He does not claim to know it all. But he has listening ears. He is constantly learning. He has a clear idea where he wants to lead the State – out of shame, out of debt, out of hunger, out of want, out of squalor, out of subjugation and out of enslavement by the Bourdillon bandits.
All the demonization, all the malice, all the name calling, all the lies, all the propaganda, all the bad belle, all the hatred and all the mischief, have not been able to stop Ademola Adeleke, because he is a man of the people. He is trusted by the people. The people have confidence in him and they have pitched their tent with him.
There is no stopping Ademola Adeleke now. No form of conspiracy would work against him. No form of undermining would be effective against him. They could unleash thuggery if they like. They could bring all the cash from Lagos if they choose to. They could bring all the Armed Forces personnel in Nigeria to Osun State if they like. The won't be able to stop Ademola Adeleke because the people have chosen him; the people are his own soldiers, because HE IS A MAN OF DESTINY.
Ademola Adeleke has learnt from those who know, that when you contextualize your ambition in the hopes and aspirations of your people, the rest could be as easy as ABC. He found out what the people wanted, he mired himself in their desires and hopes, and then anchored the war for their liberation. With the support of all well meaning stakeholders in Osun State, our people would finally be free from the tyranny of the Lagos boys.
Welcome, Ademola Adeleke, a man of destiny.
©Remi Oyeyemi
en
SOURCE :The Nigerian Voice (opinions)