Afenifere mourns Fasehun, OPC founder, who died at 83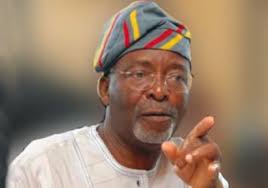 The founder of the Oodua Peoples Congress (OPC), Federick Fasehun, has died.
According to the senior special adviser on media to Mr Fasehun, Adeoye Jolaosho, Fasehun died at about 1a.m. Saturday at the intensive care unit of the Lagos State University Teaching Hospital Ikeja. He is aged 83 years.
"Baba took ill on Wednesday and was rushed to the intensive care unit of LASUTH.
"He died early hours of today. We are all devastated," he was quoted to have said in a by the News Agency of Nigeria.
Meanwhile, the Yoruba socio-cultural organisation, Afenifere, has described the death of the Yoruba icon as devastating.
The Publicity Secretary of Afenifere, Mr Yinka Odumakin, sthe deceased would be greatly missed.
"He was a prominent Yoruba and Nigerian citizen who dedicated his entire life to the service of humanity," Odumakin told our correspondent.
"We will surely miss his great works, which will continue to speak for him forever. He lived for the cause of the poor. May God be with his family at this period and comfort them."
Born in Ondo town, Ondo State, in 1935, Fasehun was a medical doctor and hotel owner and was responsible for the recent revival of the Unity Party of Nigeria, a party formed by the late sage, Chief Obafemi Awolowo in the 1970s.
He formed the OPC to actualise the annulled mandate of Chief MKO Abiola, widely reputed to have won the June 12, 1993 presidential election, a poll annulled by the military ruler, Ibrahim Babangida.
Fasehun was subsequently imprisoned for 19 months from December 1996 to June 1998 during the military rule of the late military dictator, General Sani Abacha.
en
SOURCE :The Nigerian Voice (local news)