Akwa Ibom Govt. Plans To Boost Transportation Sector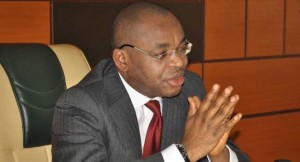 The transport sector in Akwa Ibom state would soon receive a big boost, as the government has concluded plans to bring in 1,500 vehicles to enhance productive activities in the sector.
The state governor, Udom Emmanuel, disclosed this while delivering a speech, as a special guest of honour, at the foundation laying ceremony of Akwa Ibom State Community (AKISCOM) in Lagos state.
According to him, "We are committed to delivering the Rapid Taxiway and second runway at the Ibom International Airport, to a world-class standard.
"About 500 buses and 1000 taxis will soon arrive the state to boost the transport sector. It is a Public-Private Partnership (PPP) initiative.
"Also, a mass housing estate is springing up at Idu Uruan, just as there is a bountiful harvest of tomato planted in the State through Akwa Ibom Employment and Enterprise Scheme, AKEES".
He added that, "Our industrialisation programmes are making waves, as the production lines of most of them are arriving the state.
"These are the coconut industry, tooth pick/pencil making industry, which will soon be commissioned, the metering company and others that are coming up the pike.
"Industrialisation does not start from site, so we are encouraged by the interest and involvement of private sector participation.
"The moribund Peacock Paints located at Etinan has since commenced production and we are working tirelessly to launch Akwa Ibom into the economic boom.
"In education, modalities are in place to ensure that the State Polytechnic and other institutions get full accreditation in various programmes.
"On youth development, over 4,000 Akwa Ibom youths are being trained in vocational skills in addition to overseas training.
"When I was chosen by a Newspaper company as Governor of the Year 2016, the reason I was surprised was that, I have not even started, by the time I finish interpreting my vision for the State, the world will stand in awe ".
SOURCE: Channels Tv