AMCON: Like Biafran cassava and Nigerian generator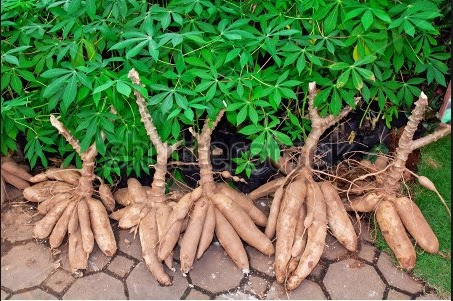 Acute hunger was our inseparable companion during the Biafran war of independence. Nothing could be imported while local farming and production were at ground zero because almost everybody was a refugee and the 'kind-hearted' Nigerian soldiers( who treated soldiers as brothers but brutally dealt with civilians, as the president revealed recently), especially the pilots and their deadly jets, made any form of economic activity almost impossible. But cassava was available. Cassava is a generous plant, which you just need to cut a stem into 10 pieces, stick them into the ground, exercise some patience and viola, food is ready. So cassava came in handy to rescue the starving populace, never mind that it is just starch. It is at such times that you know that before you talk of balanced diet, you must first have some diet! However, being the only thing available , and that survived the bomb-rain of those days, the Biafrans offloaded their anger and hunger on the cassava, as if it committed an offence by its availability. We ate the tubers, ate the leaves, some even attempted to eat the stems while we harvested the helpless cassava before it matured. In effect, for offering to help us out, cassava was used, misused, abused and overused! Indeed we had a song in those awful days about how cassava offered to help and got into trouble!
Forward to Nigeria of today, and probably starting from the 1990s. The generator came in as a stand-by source of power when NEPA started distributing more darkness than light and mischievous Nigerians gave it the baptismal name: Never Expect Power Always. It was not always like that because while I traversed the North, (Jos, Kaduna & Kano, 1987-1994), it took three days notice to the freezer if you wanted to trace the goat-head or whatever that was resting at the floor of its bowel. Anyway, originally, generators were used by the real big-men and some big organisations. I remember that the Honda that could power my one-man flat as at 1982 cost about N500 but I didn't buy; power outage was uncommon and most important, I did not feel like disturbing my neighbours at 11 Obianado Street, Achara Layout, Enugu. Then suddenly, just suddenly, the generators took over and became a must have by everybody, including beggers and cassette hawkers. The generator offered to assist us (standby) but it became the major source of power and as at now, like cassava in Biafra, it is abused, misused and overused, to the extent that Nigeria has the gold medal in the global generator-importation business
Unfortunately, the fate of cassava in Biafra and generator in Nigeria, is the current faith of Asset management Company of Nigeria, a government sponsored bad-bank that came in as a part of the banking reforms of Sanusi II. Its broad objectives are to revive troubled banks by purchasing their eligible non-performing loans(NPLs), recapitalising those in which the CBN has intervened, providing financial accommodation and consequently freeing up their balance sheets and providing liquidity to enable them perform their basic role of credit creation. By stabilizing the financial system, AMCON is expected tosave the Nigeria and Nigerians of the pangs of distress and its complicated consequences. Unfortunately, as at today and like the cassava and generator before it, AMCON is being used, abused, misused and overused!
What AMCON has done in the past 7 years is to take over eligible NPLs, drink tea ( the exact words of AMCON CEO) while negotiating repayment plans with the debtors, most of whom are big-boy debtors, and take over the assets and businesses of these unrepentant debtors. On the other hand, most of the debtors ignored AMCON and their letters, undertake a tie-in strategy by engaging AMCON in an endless legal cul-de-sac and finally let them have whatever is left of their distressed businesses and over-valued assets. But while the debtors are living their lives and while we have been mercifully saved from another round of large-scale distress, it is obvious that AMCON is in dire stress. And this is the obvious conclusion when the recent news from AMCON and its stakeholders are considered.
AMCON recently, and helplessly told a bewildered nation that its debt stock is N5.4 trn( from about 13000 bad loans) that are at least 12 years old, that 350 Nigerians owe 80% of these debts(N4.3trn, half of our contentious 2018 budget) that 90% of the debts are encumbered by litigations, that the tedious legal process is hampering debt recovery efforts and that it would soon seize the assets of the debtors, and has made a total recovery of 682bn while it is planning to adopt name and shame strategy which never worked for the banks. The CBN on its own is toying with the idea of establishing Private Asset Management Companies (PAMC), private sector-driven bad banks to takeover the estimated N2trn NPLs in the system while the National Assembly is planning to amend the laws to grant AMCON more punching powers in its dealings with the debtors.
The best debt recovery strategy of AMCON is acquisition but its MD has recently lamented that Our ability to successfully divest these assets at competitive market price, is severely hampered by several factors including valuation methodology, unperfected title documents, state of the economy, purchasing power.In 2014, I had raised issues about these amorphous acquisitions by AMCON( AMCON and Its Acquisitions, 1/4/14), especially whether AMCON could run these businesses and for how long it would do so. The above lamentation by the CEO reinforces my position then. AMCON has been acquiring everything and anything, and I believe that it lacks the capacity for effective management of these assets; and of course managing these assets are not its core responsibility. For instance, Sea Petroleum & Gas, was one of the relatively small acquisitions by AMCON( compare it with Aero or Arik). However, we can only appreciate the 'trouble' which AMCON also acquired when we look at the assets involved: the company's business, which sits on over 9000 square kms of land along the Lekki-Epe Express Way; two tank farms of 500 metric tonnes capacity; three properties located at Lekki, seven office/filling station complexes scattered around Lekki, and Abuja, staff located in Lagos, two properties at Oniru axis of Lagos, and a gas plant at Karu, and a farm both in Abuja.". This is just from a single case and one of the small ones. Just imagine what the scenario would look like if AMCON successfully achieves 200 business seizures? As I had asked before, can AMCON manage these amorphous acquisitions?
As we think about the fate and future of AMCON, I have the following question for the corporation, its stakeholders and its new chairman, Muiz Banire. Even if the legal process is loosened up so that it can easily acquire the assets backing up these N.5.4trn debts, how can/will AMCON manage these businesses sustainably before disposal? If the businesses could not service the loans while in full operation, how can they service the loan now they have been destablised by AMCON intervention/interference? How saleable are these assets, especially under this inclement economic weather? Who will come out to bid when there is a possibility that the now independent Nigerian Financial Intelligent Unit can ask buyers to indicate the source of their money? Beginning from the beginning, how were those assets valued by the banks before they were collaterised: normal valuation or banking valuation? These question are also germane for the NASS, that has promised to review with the AMCON act
How will a year one accounting student classify an organization with N2trn assets and N5.4 trn debts hanging on its neck or an organization which the CEO publicly announced that its debts have far outweighed its assets?? The fact is that AMCON is in trouble and worsening its trouble by overburdening itself with businesses and assets which it cannot manage well and cannot sell easily. Long time ago, our elders asked the native doctor who claimed that he could cure diarrhea, how immune he was from the sickness. AMCOM set out cure diarrhea but it did not fortify itself very well and he has been affected by the ailment.
All said and done, the weight of the pot has become heavier than the weight of the water just as the letter has become bigger than envelope. As we usually ask the journalists, who will watch the watchdog? It appears that AMCON also needs rescue and so, who will rescue AMCON?
The other day, a bank which has received my salaries for the past 14 years, refused to execute a transfer on my behalf because the account balance was N150( yes, just N150) less than the amount requested and that was caused by some bank charges which I was not aware of and failure of their automated online processes to update my account balances! How come individuals are owing such a bank and others like it billions of Naira? Are there different banking processes and procedures for different people? These are surely evidence of banking signs and wonders! I also think that the person which named the organization AMCON probably has a good sense of humour. Which assets is AMCON managing? Why not call it DeMCON(Debt Management Corporation of Nigeria or DiMCON( Distressed-Firms Management Corporation of Nigeria?
Ik Muo, PhD. writes from Department of Business Administration, OOU, Ago-Iwoye
en
SOURCE :The Nigerian Voice (opinions)