Amosun Escapes Unhurt As Cbn Convoy Rams Into His Convoy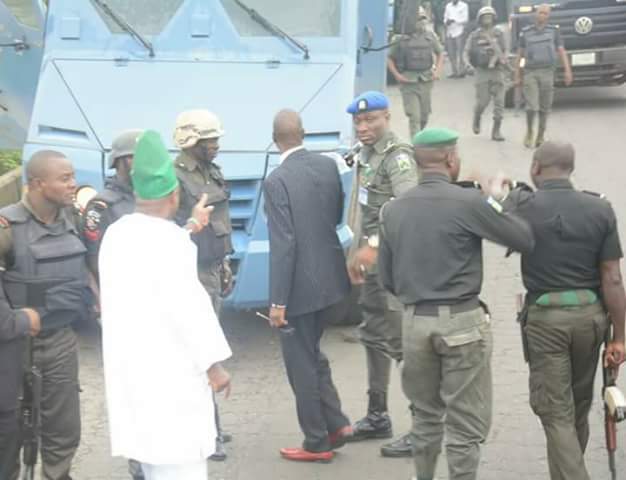 Source: thewillnigeria.com
BEVERLY HILLS, May 11, (THEWILL) – Ogun State Governor, Senator Ibikunle Amosun, narrowly escaped unhurt when a convoy of bullion vans belonging to the Central Bank of Nigeria (CBN) rammed into the governor's convoy on the Lagos-Ibadan Expressway.
According to a statement released by Amosun's Senior Special Assistant on Media, Adejuwon Soyinka, the incident, which occurred around Ibafo happened while the Governor was traveling to Lagos for an official assignment.
Amosun described the collision between his convoy and that of the CBN as lawlessness and the height of impunity as he alleged that the CBN convoy damaged the escort vehicle in his convoy.
According to the statement, the CBN convoy attempted to overtake the governor's convoy without regards for the safety of other road users.
It adds that the Governor's escort commander used a public address system mounted on his vehicle to warn the CBN convoy to desist from reckless driving.
"Not only was the Governor's escort commander ignored, the CBN convoy drivers went ahead to crush his vehicle and subsequently went after other vehicles in the Governor's convoy, including the Governor's official car, before they were brought to a halt by the security team attached to the Governor," the statement read.
Reacting, Amosun expressed disappointment with the reckless manner in which the CBN bullion van convoy often conducts itself on the road and warned that such acts of impunity will not be tolerated within the borders of Ogun State.
"If this could happen to a governor within his territory, you can imagine what they would do to our citizens who are simply going about their legitimate business," he said.
en
SOURCE :The Nigerian Voice (local news)