Anambra House Congratulates Osodieme on Zik Prize for Leadership Award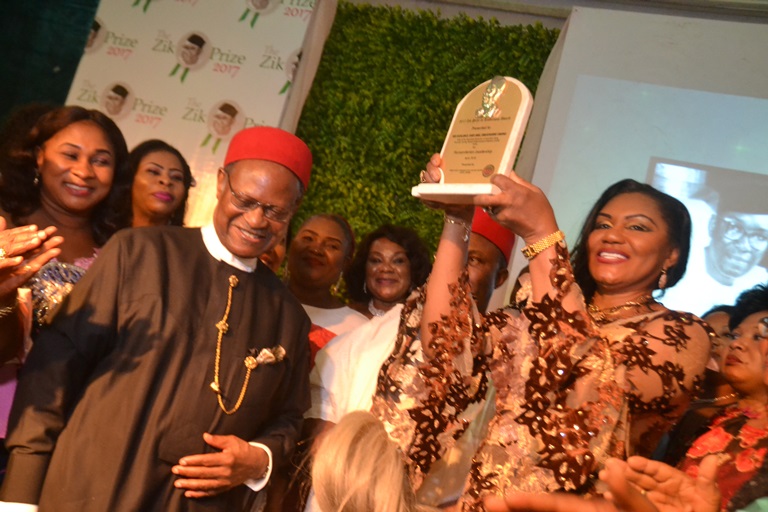 In a move seen as pan-Anambra tribute and commendation to the wife of Governor of Anambra State and founder of Caring Family Enhancement Initiative (CAFÉ), Chief (Mrs.) Ebelechukwu Obiano (Osodieme), the Anambra State House of Assembly today congratulated her for the award of 2017 Zik Prize for Leadership in Humanitarian Services conferred on her recently.
The congratulations were conveyed to Osodieme in a Motion sponsored by Member Representing Orumba South Constituency and House Committee Chairman on Women Affairs, Hon Princess Nikky Ugochukwu and twenty-eight other members with overwhelming approval of the House.
Ruling on the Motion, Speaker of Anambra State House of Assembly, Rt. Hon Barrister Rita Maduagwu stated: "Be it therefore resolved by this Honourable House that: The Anambra State House of Assembly congratulates Her Excellency, Chief (Mrs.) Ebelechukwu Obiano, wife of the Governor on her Meritorious Award of Zik Prize for Humanitarian Service."
The Speaker noted that Osodieme lives up to and acts in accordance with the title given to her by her husband's people which means one who supports her husband in doing good deeds, stressing that she is worthy of all the accolades showered on her because, "we have had other First Ladies before but there has been non like her."
Earlier while presenting the motion, Hon Princess Ugochukwu stated; "Whereas Her Excellency, Chief Mrs. Ebelechukwu Obiano (Osodieme Global) wife of the Governor was bestowed with the prestigious Zik Award on Sunday 15th April 2018;
Whereas the award was in recognition of Her Excellency's numerous achievements in human development especially in uplifting the living standard of the less privileged persons in the state.
Hon Ugochukwu averred that: "Chief Mrs. Ebelechukwu Obiano's Caring Family Enhancement Initiative (CAFÉ) has impacted positively on the lives of the citizenry such as provision of mobility enhancers for the physically challenged persons, building of houses for widows, facilitating the employment of the physically challenged persons in the state, free medical surgeries for 45 children, empowering over 3600 women and youths in different skills as well as rehabilitation of special schools for the physically challenged among others."
She further noted that "whereas Zik Prize award in addition to other numerous national and international awards given to Her Excellency, Chief Mrs. Ebelechukwu Obiano such as Smile Train Ambassador Award 2017, Irish Red Cross Award for Services to humanity, Most Valuable Governor's wife Award and Eminent Peace Ambassador of United Nations among other have done Anambra State proud in many ways. " Thereafter, she called on members to support the motion, and was it seconded by Member representing Idemmili North Constituency, Hon Nkolika Mmegbuanaeze.
Supporting to the motion, Member Representing Anambra East Constituency, Hon Pharm. Obinna Emenaka, described the award to Osodieme as well-deserved and aligned himself to the motion. He highlighted the fact that the wife of the Governor has exhibited commendable passion in caring for the less privileged and urged her to remain steadfast and firm in what she is doing because the reward is from God, describing her commitment to charity as an act worthy of emulation.
In the same vein, Member Representing Oyi Constituency, Hon Vivian Okadigbo, recalled that she was in Lagos for the award ceremony, and noted that before one gets nominated you must have worked very hard. "She was rewarded as one of the recipients for her work to humanity. This award is a well-deserved, and I pray that God Almighty will keep her to continue doing the good work." She stated.
Also speaking, Member Representing Idemili South, Hon Barr Chuka Ezenwune: "I am aware that the office of the First Lady does not enjoy appropriation from this Hon House. She does this from personal fund and money donated by people. I was once in my constituency when she commissioned house and borehole built for a widow. She should be commended."
On his part, Member Representing Ayamelum Consituency, Hon. Uche Okafor said: As onye Anambra one of the things that make me proud is that we have Osodieme as First Lady. She is the mother of all, mother everybody in Anambra state. "Before the emergence of Osodieme, there was destitute loitering the state but today….Osodieme recognizes that the welfare and upkeep of the less privileged. I feel proud and my prayer is that God will continue to reward her and more awards are on the way."
In his commendation, Member Representing Njikoka II Constituency, Hon Pete Ibida: A woman of character amazing. Mr. Speaker, no wonder the less privileged gravitate around her. Her style is real, devoid of any simulation. She has distinguished herself from other First Ladies. I join my colleagues in applauding her and state that other awards are on the way."
Furthermore, Hon Mmebugbuanaeze stated: "I am a beneficiary. She was bringing food to me when my husband died. Passion is her name. I went to Lagos and I know that the people who gave her the award knew she truly deserved the award."
Member Representing Dunukofia, Hon Lawrence Ezeudu, observed that "Position does not necessarily define a person but brings out really who you are. Her Excellency is indeed exemplary and I can attest to her good work. I will not be surprised that one day she may be nominated for the Nobel Prize…."
Member Representing Awka South 1 Constituency, Hon Pharm. Nnamdi Okafor, also supported the motion thus:
"We have to thank God for giving us Chief Willie Obiano as our governor; it is because we got our governor that we got the wife. We are very blessed that we have the most beautiful First Lady in Nigeria. She is beautiful both inside and outwards. She contributed immensely to the twenty-one over twenty-one victory. One of my constituent who was lost was re-united with her family through her assistance."
Other contributions were by Hon Romanus Obi, and Hon Umeh Ikechukwu members representing Orumba North Constituency and Aguata 1 Constituency respectively.
en
SOURCE :The Nigerian Voice (local news)