Anambra Poll: Opposition Shivers at Obiano's Achievements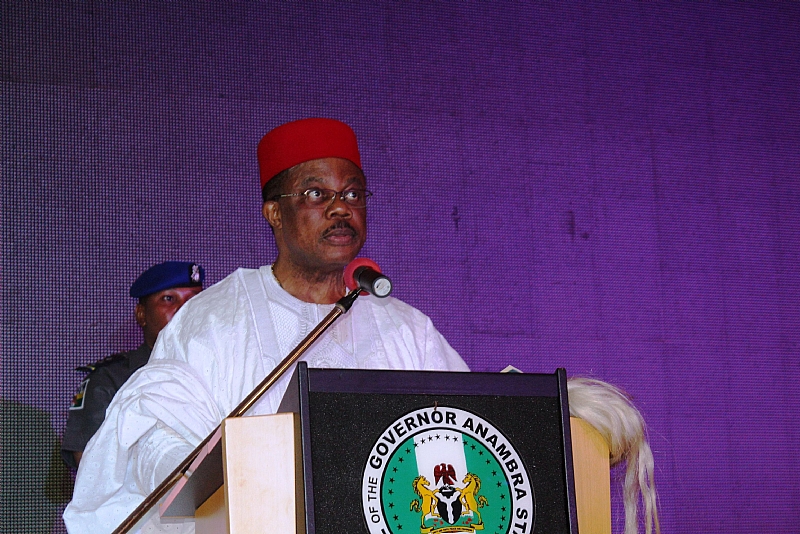 Anambra. A perfect bumper sticker for Governor Willie Obiano's campaign stomp should read, "Recession out, investors in"!
This is stating it as clearly as former American Vice President Joe Biden did on the re-election campaign trail back in 2012 when he proclaimed to a crowd of cheering supporters in Detroit, Michigan, "Osama bin Laden is dead and General Motors is alive"!
As far as bumper stickers go, Governor Willie Obiano has a compelling catalogue of achievements on the security and economic fronts to adorn the colourful profile of a thousand bumper stickers. But his re-election is not expected to be half as tough as Obama's 2012 summer run against Mitt Romney. Obiano's record has placed him beyond the optimistic aspirations of the most ambitious opponents in the forth- coming election. His vision and creative policies have saved the state from economic recession and in the process foisted some sort of political recession on the state that has left the political landscape starved of formidable opposition.
But politicians are creatures of habit, and like the Bourbons that ruled most of Europe centuries ago, the political actors in Anambra seem to have learnt nothing and forgotten nothing from the past. So, the race is on, and following the same familiar pattern of intra-elite war with little or no bearing on the real issues of concern to the electorate. In its current form, the race to the polls is simply a battle between progressives, swept along by the discernible outcome of Obiano's strong ideas and transformative vision and those die hard traditionalists stuck in time with nostalgia about the fading era of strong men like Peter Obi.
This divide has made the race primarily a contest between Governor Willie Obiano and his predecessor, Peter Obi. It really could have been a tripod but for the fact that Tony Nwoye of the APC is generally perceived as bereft of meaningful political capital. His antecedent is a troubling chronicle of political thuggery and the fact that the APC as a political vehicle is anathema in the region. And things couldn't get any worse than recent revelations by the World Bank that President Buhari's declared obsession is with developing the North at the expense of the rest of the country.
All of a sudden, whatever little merit there was to Nwoye's dangling carrot of linking Anambra to the centre has been completely pulverized by this revelation. Successful political campaigns are scarcely built on such parochial vision in a plural society, except of course you're running under the moniker of Trump or Buhari. The party was over for Nwoye long before it started.
In reality therefore, besides ceremonial opposition by other contenders, Obi's stooge, Oseloka Obaze has emerged as the main opposition candidate. The intrigues and drama that thrust Obaze into the fray created deep disaffection within the state PDP structure but cleared the coast for the former governor to embark on his most impossible political task yet—that of finding a replacement for his high performing successor. It is a self-imposed task and one that may eventually define the final stages of an uneasy journey to self a demystification. Without doubt, Peter Obi had woven a larger than life myth around himself in his two terms as governor. He was widely regarded as the strongman of Anambra politics and chief political strategist of the South East. Those who could read the crystal ball predicted a brilliant future for him as a statesman, post governor's lodge. What with the invaluable backing of the late Ikemba of Nnewi as founder and backbone of the APGA dynasty and the determined leadership of the politically astute Chief Victor Umeh to steer the party through the intrigues and rough-hewn paths of partisan politics. Obi was raised on goodly political heritage.
This reputation prompted former president Goodluck Jonathan to snap him into his strategy team as soon as he vacated government house Awka. His inexplicable defection to the PDP was considered a major victory for PDP strategists and the president's head hunters. With soaring ratings, he was revered as the potent talisman that would ensure that GEJ got re-elected. The rest they say is history. Overnight, his questionable ratings collapsed even as he moved from the centre to the side lines of politics in Anambra. Unwilling to accept his diminished political fortunes, he has emerged from the margins of state politics to test his weight against the tide of public opinion in the ongoing race for the guber crown in November.
His latest move signifies a major misstep in a series of catastrophic political miscalculations since he wandered outside the shadows of the party that brought him to fame and political relevance. Isolated at the periphery, and opposed to the disposition of well-meaning citizens even in his own divided party, Obi is out to test the APGA slogan of NKEABU NKEANYI to see whether it truly means anything to the people of Anambra.
Left with nothing to swear by, Obi swore by his own blood on national media and declared himself a political gladiator with a penchant for defeating incumbents. Nothing, he opined, could save Obiano from the sad fate of those who found themselves opposed to Peter Obi's political interests. Such exaggerated notions of self and the illusory political value of presidential aides like Peter Obi were the slow burning trigger that led to the electoral woes of former president Jonathan. This self-serving estimation birthed an epic decline and turning point in Peter Obi's political career. Left on his own after the presidential polls, with no real grassroots base, he turned to his spin doctors to weave a media profile of him that is far removed from reality. He put his political fortunes on the line when he turned his back on APGA. His switch to PDP and appointment to the federal cabinet were designed to give him the clout he needed to set up an alternative power base to confront APGA. PDP stalwarts in Anambra admit that a positive re-election bid for GEJ would have reinforced the myth around Obi and given him the latitude he needed, like the Uba brothers to make his own unilateral imposition on who could become the next governor of the state.
This egocentric ambition was also confirmed by some of his close political associates who conceded that; stripped of the federal cover he so craved, Peter Obi completely unravelled and, in present form lacks the clout to make a dent in the deep rooted APGA structure. For 12 straight years, APGA has excelled at addressing the state's fundamental political and economic problems and in the last three years witnessed unprecedented improvement in security and economic growth under Obiano. At the root of this APGA miracle is the little known Swiss model of power rotation between the Swiss Cantons that has ensured centuries of remarkable stability in Switzerland. This Model thrives on economic and social capital equity for all parts of a territory with an inclusive power sharing formula for all units as stakeholders in the collective fortunes of a sovereign territory.
Before he went rogue, Peter Obi was well aware of this arrangement in APGA and was its first beneficiary. His current peregrination is considered a stab in the back by the elite in Anambra especially given that the incumbent governor's exploits are widely acknowledged as exceeding all positive expectations. Unfortunately, Obi's only idea of political power in Anambra is a concept that revolves around him. But like all tragic heroes, he is now following another ill-advised part that would only deepen his alienation from the power elite in Anambra State. Since he switched sides, he has groped in the dark for political power and relevance. And in current campaign photos of him in neighbourhood markets, curiously circulated by his aides, cuts a pathetic figure of a marooned politician seeking to rebuild a collapsed empire whilst grasping at straws. Oseloka Obaze offers a fickle chance for a comeback for Peter Obi but the odds are that it will mark a fading sunset for his Political career.
It is hard to understand what drives Peter Obi's politics; he lacks the full support of a severely divided PDP whilst his timing and choice of candidate reflect a fundamental flaw in thinking. Mark Twain unforgettably declared, "There are three kinds of lies: lies, damned lies and statistics." From social media comments by his supporters, it is clear that Obi's aides have not been telling him the truth. From the scanty rented crowd at his campaign flag off, it is obvious that statistics and damned lies have conspired with hubris to bring him to ruin. Blinded by rage and bitterness against his successor, Obi has failed to properly read the pulse of the electorate in Anambra. Obiano may not cut the image of a strong man, but it is hard to miss the effect of his sound policies and far reaching economic interventions in the last three years. And from the Uba brothers to Peter Obi, the electorate have grown weary of the spectre of unilateral imposition on the public will. The sad memories of godfatherism in the Ngige years are still too fresh for the people to wish to be enmeshed in another crisis of loyalty by elected officials.
For a change, the world has been griped by the steady flow of good news from Anambra in the last four years. The elimination of organized crime that had crippled the state with dozens of high profile kidnappings under Peter Obi's watch is considered the greatest achievement of Obiano's administration. The people want to keep it that way. His award winning economic policies and community based development agenda have not only kept the state high above the tide of recession but generated billions of dollars in direct private sector investment in agriculture, manufacturing, and world class service oriented infrastructure. That is the Anambra of the moment; it is the Anambra of the future. Obi's blood oath invokes shuddering memories of Buhari's dog and baboon bloodbath threat about elections he lost some time ago. It is the way of strong men; they are bound to their interests by blood. As they say, the die is cast. The first time Obi tried to test his worth outside the cover of APGA, he failed. Now he is following a new path to ruin. Since the inception of the incumbent administration, throngs of eminent Nigerians have embarked on pilgrimage to Anambra for first hand assessment of the Obiano miracle. National figures like Labaran Maku and Ben Bruce , along with non-partisan statesmen like former head of state, General Abdulsalam Abubakar and Chief Alex Ekwueme are part of the long list of admirers who have looked beyond politics in applauding the revolution unfolding in Anambra state.
Happily, these are the issues in this election; it is the era of brain and just a little speckle of brawn.
Atah, Editor of African Profiles Magazine, writes from Lagos.
en
SOURCE :The Nigerian Voice (politics)