…And Pepsi Pleads Guilty At The Village Square!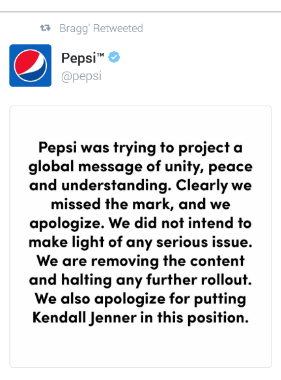 On Wednesday, I was scared stiff for Pepsi!
I had woken up to the news that the brand had been dragged to the "new village square" over it's new commercial which features supermodel Kendall Jenner.
The "new village square" is a term I coined to describe social media in acknowledgement to enormous ways these media has helped to give profound clarity to Professor Marshal McLuhan concept of the "Global Village"
The celebrated Communication scholar Professor McLuhan had insightfully submitted in his book 'The Gutenberg Galaxy' authored in the '60s that "Television and new electronic gadgets (telephone and others) have transformed the world into an interconnected tribe he calls a global village.
And so I have this notion that if the world has become a global village through the invention of the telephone and television which McLuhan posits have shrunk our world into a global village, then social media must be the new village square.
For I thought to myself that in the same way a conventional village occasionally summons any of its citizens to advise, scold, or celebrate them over a certain issue, inhabitants the internet also get to summon any of its own too, with social social media serving as the new village square.
And so on Wednesday, Pepsi had its day on the village square.
The inhabitants of the new village square (Social media users) across different platforms had summoned the makers of the soft drink to discuss their new advertisement which many "villagers" insisted had veered into the wrong route by TRIVIALISING THE IMPORT OF POLITICAL PROTESTS, among other issues.
When the backlash became unbearable, PEPSI PLEADED GUILTY AND ISSUED THE APOLOGY IN THIS PICTURE and IMMEDIATELY PULLED DOWN THE ADVERTISEMENT FROM THE YOUTUBE CHANNEL WHERE IT WAS UPLOADED
Take a look here:
https://youtu.be/zFOX8GJ3mgA
Now, experiences have shown that when you are summoned to this new village square, you could either be lashed out at or given thumbs up on the issue that warranted their summons.
For instance, Samsung got dragged into the village and it got a thumbs up for this commercial: https://youtu.be/779KwjAYTeQ
QUICK LESSONS WE SHOULD PICK FROM THIS:
1. Underestimate the powers of the new village to your own peril. Depending on how you manage your actions, the new village square can become the springboard that catapults u to new heights or quicksand that pulls you down.
2. Issue an apology immediately when the new villagers insist you are wrong. Also look for a way to make recompense for the wrong you are accuse of.
3. Test and retest your communication materials before launching them, especially those that are going to have a wider geographical spread.
Now that you know…
Happy weekend.
SOURCE: The Nigerian Voice (opinions)