Aniocha North Boss Advocates For Road Maintenance Culture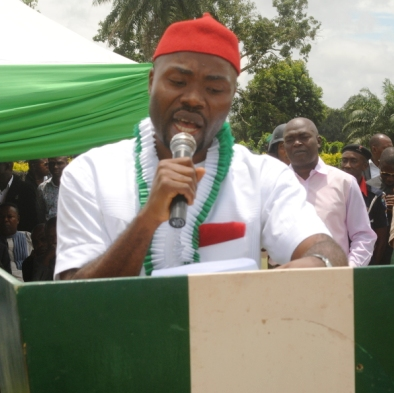 By Kenneth Orusi, The Nigerian Voice, Asaba
The chairman of Aniocha North local government area of Delta State, Hon Chuks Oseme, has called for maintenance culture particularly roads currently been constructed by the Senator (Dr) Ifeanyi Okowa-led administration in the state.
"Road accessibility is a key determinant of development in our communities. Without physical access, rural communities like Issele-Uku and environs will face more greater obstacles in obtaining healthcare, education and other social services", lamenting that the ability to take advantage surplus crop production and employment opportunity are severely constraint.
The Aniocha North boss stated this in his speech during the official commissioning of the Issele-Uku main access road connecting the Asaba-Benin Expressway by Governor Okowa to mark his two years anniversary in office.
Oseme noted that roads are key elements in the provision of physical access, "although physical access is not a Sustainable Development Goal in itself, it plays a vital role in determining the chances for reaching a number of the SDGs. The rehabilitation of rural roads as one of the key elements of improving access and thereby reducing poverty is justified only if equal attention is paid to the maintenance of these roads".
He revealed that the Issele-Uku main access road is the last link of transportation network to most communities in the hinterland, "despite this, it forms the most important link in terms of providing access for the rural population. The permanent of seasonal access of this very vital road has always been a crucial factor in terms of access to basic services such as education, primary health care, water supply, local market and economic opportunities for the surrounding rural communities".
The 2.47 kilometer road was awarded to Reginald Alloy R&M Limited at the cost of N171.1 million.
en
SOURCE :The Nigerian Voice (local news)