Aniocha North Chairman Donates Transformer to Council Secretariat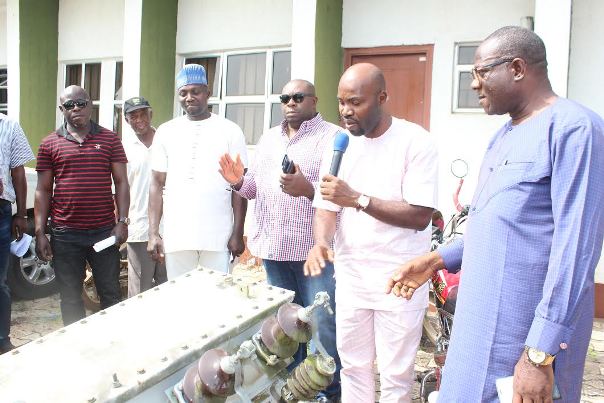 By Kenneth Orusi, The Nigerian Voice, Asaba
To boost power supply, Chairman, Aniocha north local government area, Delta state, Mr Chuks Oseme, has donated a brand new transformer to the council secretariat.
The council boss who made the presentation in Issele-Uku, recently noted that the council secretariat was not fully connected to the national grid due to unavailability of transformer to serve the council.
According to him, today, another landmark achievement has been made in providing a brand new transformer to the council secretariat.
"It is a promise made, a project executed, and a project sustained. You may recall vividly that on 2nd September, 2015, Governor Ifeanyi Okowa commissioned electricity supply at the council area that was without electricity supply for over a decade, and today, another history is made also".
"There is no doubt that power supply through generator was in itself additional burden on the council's lean resources. To ameliorate this unfavourable trend, my administration in the spirit of probity and accountability deemed it fit to provide a brand new transformer for the use of council secretariat", he stressed.
However, the chairman also presented a cheque of N500, 000 to the Issele-Uku Electricity Project as part of support to the community self-effort at providing security around the electricity installation.
Oseme noted that following the restoration of electricity supply in Issele-Uku, the massive rural-urban drift has reduced drastically and micro business activities have picked up in earnest.
While he called on all and sundry to contribute meaningfully to this noble cause, the council boss said electricity is bed rock of any meaningful development.
The chairman who also used the occasion to present a cheque of N250, 000 to the family of former Vice Chairman of the council, Late Hon Henry Nwabuakwa, said the council resolved to honour posthumously with the cash donation for the selfless service rendered to the local government area.
In their remarks, the President General Issele-Uku Development Union, Mr Ofodile Ugeh and Chief Emma Ebo thanked the council chairman for the kind gesture, describing him as a major donor of electricity in Issele-Uku.
en
SOURCE :The Nigerian Voice (local news)