Anxiety as Buhari absents from FEC meeting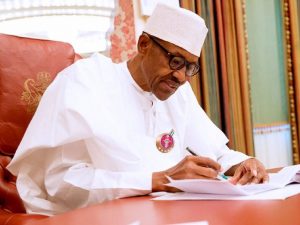 President Muhammadu Buhari was absent at the weekly meeting of the Federal Executive Council on Wednesday fuelling speculations that his health might have relapsed.
The health of the president has been a issue of major concern to Nigerians since after he came back from medical sojourn in England where he spent about 51 days. The President himself indicated then that he might be heading back to London, England for further checks after few weeks.
FEC which held at the Council Chamber of the Presidential Villa, Abuja with the Vice    President  Professor Yemi Osinbajo presiding.
Buhari's non-attrendance was a surprise to most of his ministers who had expected him to preside the meeting.
According to Vanguard report, that he would have presided over the meeting became conspicuous when a security operative in plain clothe stood behind the President's seat to secure it. Such had been the culture at the meeting and indeed, any other function the President is billed to attend. But by 11am when the FEC meeting was scheduled to commence, Osinbajo's voice resonated from the background as he called for the National Anthem.
The development abruptly alerted most Ministers who were hitherto exchanging pleasantries with each another to settle down for the day's business. Journalists were later excused from the meeting. It is not known whether the President would join the meeting later.
The President since he returned from his medical trip on March 10 had been presiding over FEC. His last FEC however was last week Wednesday when he launched the Economic and Recovery Growth Plan, ERGP.
SOURCE: The Nigerian Voice (local news)