Anxiety Persists Over Buhari's Health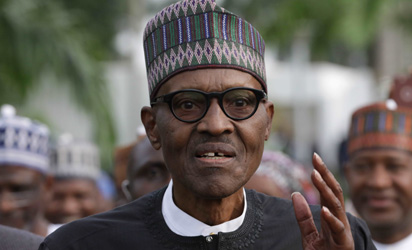 Lagos, Abuja – Though President Muhammadu Buhari is back to the country after 104 days in the United Kingdom on medical vacation, there are still concerns over his health.
According to INDEPENDENT sources, while many are still jubilating and thanking God for his return, some of his close aides and associates are still apprehensive about his state of health going forward.
According to our sources, "The coming days will determine how events play out especially now that the president is back in the Villa. There is this fear among his aides that his health condition deteriorates whenever he returns from medical vacation."
President Buhari left the country on January 19 and returned after 51 days of medical vacation on March 10. He again left on May 7 and returned to the country on Saturday.
A presidency source had earlier told INDEPENDENT that the United Kingdom (UK) doctors are unable to detect the ailment the president is suffering from, adding that the president was unable to eat, a situation which greatly affected his health.
"Aside old age, some people believe the president's problem may be spiritual. Don't forget what a former presidential aide (Reuben Abati) wrote about the spiritual side of Aso Rock. Though many said his claims are rubbish, some of us saw sense in what he said.
"I believe the genuine love and prayers of Nigerians has greatly helped President Buhari up till this moment. But some are still nursing this fear that his health condition deteriorates once he gets to the Villa. So, we keep our fingers crossed and see what happens in the coming days and months", he said.
Also speaking with INDEPENDENT, Dr. Fredrick Fasehun, founder of the Oodua Peoples Congress (OPC), said despite the President Buhari's homecoming, governance in Nigeria will still suffer because the president will still need to recuperate before assuming office.
Fasehun, a medical doctor, argued that no patient having been ill for a long time jumps to work immediately upon recovery but will undergo "recuperation period" which may last for weeks.
According to him, "No one leaves a hospital bed only to jump into office. There is what they call 'the recuperation period'. And if somebody has been absent from work for about three months, can he within the recuperating period go to office? No, because he will have to obey the strict instructions given to him by his doctors", he said.
Buhari Faces Key Challenges
Meanwhile, Buhari has returned to a nation wondering how strong a role he will play as his administration confronts re-emerging ethnic tensions, resurgent Islamist Boko Haram militant attacks and a sluggish economy.
In his absence for treatment of an undisclosed illness, Vice President Yemi Osinbajo ran the government amid protests this month demanding that the president return to resume his job or hand over power to his deputy for the remaining two years of his term.
"President Buhari certainly faces multiple challenges as he resumes duty," Nnamdi Obasi, senior adviser on Nigeria at the Brussels-based International Crisis Group, told Bloomberg in an emailed response to questions.
"The biggest challenge would be to calm nerves and curb divisions, to rally Nigerians around a common vision for the country and bring some urgency towards pursuing that vision," he said.
The country faces a host of threats.
The economy contracted last year for the first time since 1991 amid low revenue from crude exports, a conflict with the Islamist militant group Boko Haram has killed tens of thousands of people and threatened parts of the North-East with famine, and secessionist agitation by Indigenous People of Biafra (IPOB) and tensions between it and some northern youths are intensifying.
Rumours of a military coup surfaced in May after Army Chief of Staff Tukur Buratai said he'd received information about individuals approaching soldiers and officers to discuss a plot. The armed forces dismissed speculation that there was a conspiracy to topple the government.
Buhari was elected in 2015, marking the first time the opposition ousted a ruling party by a vote in the country. While he's made some gains, there's been stiff resistance from vested interests, said Antony Goldman, the head of PM Consulting, a London-based political risk consultancy specialising in West Africa.
"Time is running out," he said. "There has been progress on security, agriculture and governance, but patience is a limited commodity."
How much authority Buhari continues to wield will be closely watched in a country roughly split between a mostly Muslim north and a predominantly Christian south. The prospect of Vice President Osinbajo replacing him could stoke unrest in Buhari's power base.
"If he says he's no longer capable and lets the vice president continue, there'll be a problem," said Charles Dokubo, a professor of political science and research director at the Lagos-based Nigerian Institute of International Affairs. "His core constituency will behave as if he's sold out and mount a lot of pressure on him to continue. It will not be easy for him to relinquish power."
Buhari's return probably won't have much impact on policy making or the nation's economy, which has seen the naira currency weaken by 13 percent this year. But it may spur lawmakers to speed up passage of legislation because the president's popularity in the north helped many members of his All Progressives Congress (APC) to win election to the National Assembly, Amaka Anku, senior Africa analyst at Eurasia Group, said in an emailed note.
Osinbajo's loyalty to the president has solidified Buhari's trust in him and will ease his return, she said.
"As Buhari remains quite ill and is unlikely to resume full presidential responsibilities, he will allow Osinbajo to continue to handle day-to-day governance tasks," Anku said.
Buhari's ability to deliver on promises such as battling corruption and improving security will depend on his stamina and how the government is able to focus on its priorities amid the distractions of looming elections in 2019, said Obasi of International Crisis Group.
"With barely a year to go until the election season, it's now looking like a desperate race against very limited time," he said.
Thanksgiving At Aso Villa Chapel Over Buhari's Return
The return of Buhari may have given Vice President Yemi Osinbajo a sigh of relief as he was seen jubilating during church service at the Aso Villa Chapel on Sunday.
Although Osinbajo did not make any comment at the church service, his body language all through the service depicted that he was obviously excited that President Buhari was back.
With Buhari around, Osinbajo who had been saddled with the responsibility of steering state affairs on behalf of his principal would recline a bit and assume his vice presidency role.
The entire church was also electrified when they rendered various worship songs in Hausa, Igbo and Yoruba languages thanking God for the return of the president.
The Chapel's administrator, Rev Isaac Ambi, who presided over the service, said the church was happy that the president had a safe return home.
"We came to rejoice with our father, Acting President Yemi Osinbajo, for the safe return of our president and our father, Muhammadu Buhari. And we also want to thank God on how he has used Osinbajo in piloting the affairs of Nigeria while the president was away," he said.
Prof Durosinmi Etti, who also spoke at the service, urged the worshipers to celebrate the Lord for what he has done in the president's life.
He sang the popular song: "What shall we say unto the Lord, All we have to say is thank you Lord…"
Prayers of thanksgiving were also offered in the three major languages by the immediate-past chairman of the Federal Civil Service Commission (FCSC), Deaconess Juan Ayo; Reverend Ambi and Mr. King Opuru.
A special ministration with the title 'All Things are Working for My Good' was also rendered by the choir to honour the Lord for sparing President Buhari's life.
In his sermon entitled, 'What is New for a Christian,' the church Administrator, Rev Ambi, who spoke from John 15:1-11 and Psalm 23, urged everyone who has accepted Jesus Christ as one's Lord and Saviour to continue to live one's life according to the dictate of Christ.
Kogi Declares Public Holiday For Thanksgiving
Kogi State government has declared August 21 as a public holiday for citizens to thank God for safely returning President Muhammadu Buhari to the country.
Kingsley Fanwo, Director-General, Media and Publicity to the state governor, said it was to enable the people to give thanks to God for returning Buhari in sound health and sound mind.
He said that the decision was also in line with the support the people of the state had been giving to Buhari in his efforts at correcting the ills of the past and putting the nation on sound economic footing.
"We urge Kogites to also use the occasion of the public holiday to pray for Mr. President as he resumes his responsibilities of repositioning Nigeria," the statement said.
The statement quoted the state governor, Alhaji Yahaya Bello, as thanking the people for standing by the president while undergoing treatment in London and for trooping to Abuja to welcome him.
en
SOURCE :The Nigerian Voice (local news)