APA, one of CNPP parties wins Ibadan South West LG, Ward 3 Councillorship seat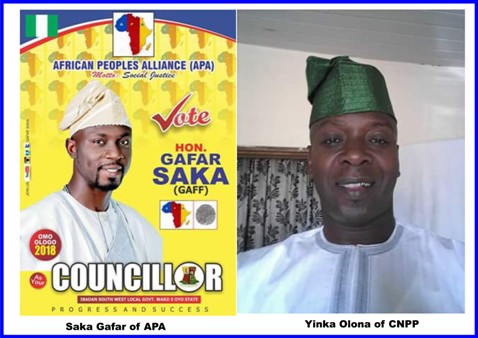 One of the political parties under the Oyo state chapter of the Conference of Nigeria Political Parties (CNPP), African Peoples Alliance Party has won the councillorship position in ward 3 under Ibadan Southwest Local government in the just concluded 2018 Oyo State Local Governments elections.
This was contained in a press release signed and issued to newsmen this morning by Oyo CNPP Chairman and Secretary, Alh. Yinka Olona and Mr. Angel Folorunsho.
According to Alh. Yinka Olona who is also the Southwest Chairman of CNPP said "Our association has been notified by APA state executives that one of their candidates in the just concluded Oyo state local government election, in person of Mr. Saka Gafar of APA has defeated his major opponent, APC candidate in the election with wide margin and huge number of votes.
Although the official result has not been announced by the Oyo State Independent Electoral Commission (OYSIEC) but the result gotten by APA polling agents and signed by the party agents of the defeated APC candidate in the election showed that Mr. Saka Gafar of the African Peoples Alliance Party (APA) won the election.
Alh. Yinka Olona further commended the state governor, His Excellency Abiola Ajimobi and the OYSIEC Chairman for conducting credible, free and fair local government elections.
Details of the results showed that APA secured its highest votes in Ward 3, where the loyalists and followers of the late Ibadan political sage, Late Chief Lamidi Adedibu reside.
Meanwhile, Oyo APA Chairman and Secretary, Mr. Tolulope Adedoyin and Mr. Raji Babatunde have not expressed their satisfaction over the outcome of the election since the official result of the elections has not been announced.
en
SOURCE :The Nigerian Voice (politics)