APC Drums Support For Obaseki, Says PDP Appeal Unnecessary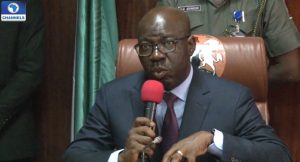 The All Progressives Congress (APC) says the appeal by the Peoples Democratic Party (PDP) is not necessary, in view of the explicit nature of the judgement of the tribunal on the Edo State governorship election.
Speaking to Channels Television, the State Chairman of the party, Anselm Ojezua, urged the PDP to support Governor Godwin Obaseki in moving the state forward.
"The judgement of the tribunal was very explicit and very clear. It was comprehensive and any right thinking person should know that from the very beginning, they did not have a case.
"They claimed they had 800 witnesses but they came up with 91 witnesses. Out of the 91 witnesses, only 27 of them were relevant to the case and even those 27 were all discredited under cross-examination, and the tribunal concluded that the PDP had witnesses but no evidence. What that means is that they had no case ab initio," he said.
Mr Ojezua noted that he had called on PDP members in the state to shun political sentiments and join the APC-led administration, saying it was time for governance.
"I think that was instructive sufficiently. I issued a statement earlier in which I invited them. This is not a time for politics, this is time for governance. I suspect maybe they are looking at 2019; there will be no 2019 for PDP in Edo State.
"It is very clear from the way Governor Obaseki is handling governance in Edo State, this is a new dawn of a new era. They should key in now that they still have time, the train is leaving and they will be left behind," he said.
Source: Channels Tv