APC Inaugurates Buhari Support Groups In Kano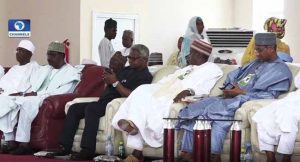 A National Committee for Buhari Support Groups (NCBSG) has been inaugurated in the commercial city of Kano, in what seems like an attempt to strengthen the support base of the President Buhari which seems to be weakening gradually as a result of challenges of governance.
The new committee is charged with the primary responsibility of identifying various independent groups that worked for the success of President Buhari, and the APC as a party in the 2015 General Elections.
Speaking during the inauguration of the committee at Coronation Hall Wing of the Kano Government House on Thursday, Ahmed Lawan, APC majority leader in the Senate, who is one of the key drivers of the group, said one of the four cardinal objectives of the committee was to generate support for the administration of the President.
According to him, other objectives of the committee include: "To galvanize the support groups with a view to bridging any communication and support gaps between the government and the citizens of the country.
"To mobilise unwavering support for the Government of President Muhammadu Buhari in its efforts to fight corruption, secure the country, develop infrastructure, create jobs, and bequeath a legacy of socio-political change, and to serve as a platform for coordinating the activities of Buhari Support Groups nationwide.
"To also serve as a vehicle that will continually alert government of economic, political and social initiatives that will enhance policies and action for the benefit of Nigeria and her citizenry," Lawan said.
Meanwhile, other sources have indicated that the committee is charged with the mandate of generating, as well as updating the database of supporters at the grassroot level.
The database is to cut across support groups and their officers from Local Government, ward, and unit levels, in addition to identifying mobilisers, communicators, change advocates and their appropriate leaders.
Source: Channels Tv