APC Members Visit NDDC, Express Confidence In Ndoma-Egba's Leadership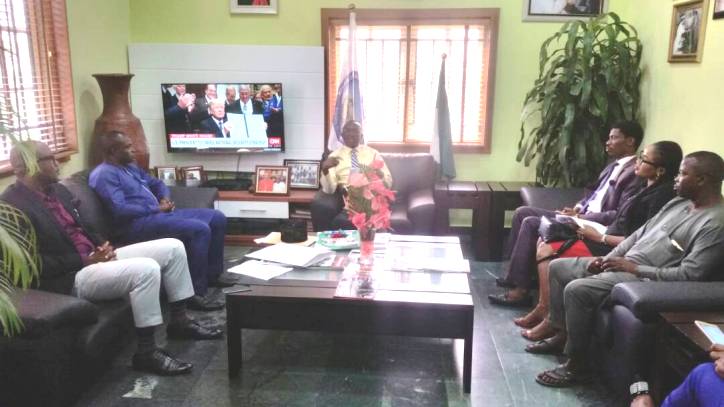 Staff of the All Progressives Congress (APC) National Secretariat and members from South-South zone, have expressed confidence in the Governing Board of Niger Delta Development Commission, NDDC, headed by Senator Victor Ndoma-Egba, SAN.
The staff and members of APC who paid a courtesy visit to Ndoma-Egba in his Abuja office, said the ex-Senate Leader has provided sound leadership since he became the NDDC Chairman, as evident in the successes recorded so far by the interventionist agency under his watch.
The delegation led by Ubong Akpan, commended NDDC's commitment towards increasing the educational standard of the Niger Delta people by the building and renovation of institutions of learning in the region.
He said: "It is evident that you are poised to resolve conflicts in the Niger Delta Region and have a working plan for the commission in synchronization with the Mandate establishing the Commission, which if actualized, will be one of the greatest achievements of the current Board of NDDC. We pray that God will help you bring all your good plans for the region to bear.
"We have noted the people oriented projects being undertaken by the current Board and Management; it is noteworthy that when you develop a person you have succeeded in developing a Community and Nation as the multiplier effects cannot be over emphasized".
The group leader, however, appealed for more projects that would empower the teaming South – South youths while thanking the Board and Management for driving the process towards a prosperous and peaceful Niger Delta Region.
Responding, the Chairman of NDDC, Ndoma-Egba, reassured the group of the commission's determination to restoring the glory of the Niger Delta, while pleading with the people of the area to support the efforts being made by the Buhari-led administration towards developing the region.
MICHAEL JEGEDE IS AN ABUJA-BASED JOURNALIST
en
SOURCE :The Nigerian Voice (politics)