Appraising Nnamdi Kanu's parley with the South East Senate Caucus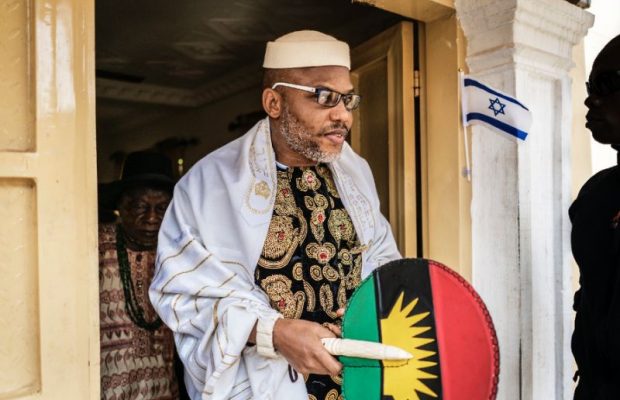 The torrential rain that occupied most part of last Tuesday could not deter the leader of the Indigenous People Of Biafra (IPOB), Nnamdi Kanu from honouring the meeting between him and the South East Caucus in the Senate and the Senator representing Abia South, Senator Enyinnaya Abaribe, in the latter's Ohuru Country Home in Obingwa Abia State.
Kanu, who arrived Abaribe's country home at about 4pm in a Toyota Venza, and was ushered into one of the sitting rooms by the aides of his host. After pleasantries, the duo went into a private for about an hour. The environment did not betray the magnitude of the meeting as there were only a manageable crowd comprising members of the media, the host aides, few persons that accompanied Kanu to this historic, and few other persons that came may be on the invitation of the Senator.
After the private meeting between Kanu and Abaribe, the essence of the meeting was unveiled.The South East Caucus, according Sentor Abaribe, who represented the caucus, deemed it necessary we have discussions and interactions with IPOB. It will be recalled that the Caucus was instrumentality to the bail of Nnamdi Kanu. Because of the misconceptions and misunderstandings about IPOB and the prevailing atmosphere of tension in the land, the Caucus wants to defuse the tension, this informed the meeting to discuss with Kanu, who is the arrowhead of IPOB and where the group is coming.
In the words of Abaribe:"We have told him our stand. Our stand is that we cannot continue this nation the way it is. There must be restructuring, there must be devolution of powers; there must be discussion by the component parts to ensure that every part of this country will have a better and far more promising union. Not a union that you will have some people feeling that there are first and second class citizens. We had very fruitful discussions. And I'm grateful to Nnamdi Kanu for giving us the assurances. We want to call on Nigerians to work for the peace and unity of this country. There is no Nigerian that wants us to devolve into conflict. And we don't want our land to be used as a conflict base. We want to also continue this discussion. This is not the last discussion; this is just like a preliminary discussion. The caucus will also meet as we come back from recess. We will put into a cage all persons, groups, associations to ensure that everyone will be assured of
equality and justice. We want to be sure that nobody will be treated differently. And we want to also see Nigeria not as an oppressive state, but a state where we can fully exercise our rights as citizens of this country".
Thank God at the end of the meeting, Kanu assured the Caucus that IPOB is non- violent and will continue, and will not engage in anything that would cause. The group needs to be highly applauded for maintaining this stance over time, despite several provocations in the past that could have forced it to behave to the contrary.

Nonviolence has proved a veritable instrument in the hands of agitators to weaken their enemies.Gandhi's commitment to nonviolence attracted huge following from the Indian populace and endeared other notable rights activist Dr. Martin Luther King in the United States, Nelson Mandela and Steve Biko in South Africa, and Aung San Suu Kyi in Myanmar to follow his lead.

On the other hand, the meeting also provided Nnamdi Kanu an ample opportunity to defuse some misconceptions about IPOB as well restate his respect and high regard for Senator Abaribe."I have heard his counsel which has greatly enriched me. I have regard and respect for him, people know that since 1999. So, my assurance to him is that I will not do anything that will bring dishonor or shame to our people, I will never do it. IPOB will never be violent, we will never be armed. So, there is no need for people to be afraid of the internal operations of IPOB because we will never resort to armed violence or armed struggle of any sort .Our method is far more potent and effective than any armed struggle. So, I will always listen to him and I will return to him from time to time".

On the vexed issue of IPOB allegedly setting up a parallel security outfit, Nnamdi Kanu replied."It is like you have vigilante outfits everywhere. It is not armed. We want to stop the menace of Fulani herdsmen in our land. We won't tolerate it, it won't happen here. In the North, you have the Hisbah Police, Sharia police; you even have the Janjaweed police. Here, we have nothing; we need to protect this land. We need to prevent the Fulani cattle men from rustling; we are opposed to every form of disorder and criminality".

According to him,"the Nigerian Police has done nothing, absolutely nothing. Fulani herdsmen have been rampaging everywhere. President spoke, he never mentioned the menace of Fulani herdsmen, his interest was Biafra, unity, threat and intimidation. That doesn't work with me, it may work with you, but it can work with me. You can't intimidate me because I'm a Biafran. Nobody can intimidate me.I assure you".

While we savour the positive outcome of this historic meeting, a word of adminition needs to be offered to the Federal Government to retrace its footsteps in its approach in containing the activities of IPOB, lest it sparks fire that would be difficult to quench.

Recently, Network of Police Reforms in Nigeria (NOPRIN), said it is seriously concerned about the announcement by the Chief of Defence Staff, Gabriel Olonisakin, who told reporters after the national security meeting with service chiefs and other heads of security agencies that President Buhari has fully instructed security agencies to deal with threats posed by seperatist groups and to ensure that the directive is carried out to the letter.

NOPRIN's statement reads "Although Mr. Olonisakin said other security issues, like Boko Haram, kidnapping and farmers-pastoralists clashes, were also mentioned, the military chief hinted that the threat posed by separatist groups was seen as urgent" .

"NOPRIN believes that Comparing IPOB with Boko Haram is wrong and it will also be wrong and unfortunate to even contemplate treating them in the same way. They are not the same at all. IPOB is not a terrorist organisation like Boko Haram".

The group said that in the past security forces have latched on similar ill-advised and dangerous presidential directives to commit heinous crimes and atrocities such as the use of disproportionate force to kill and main hundreds of unarmed IPOB members, adding that,"it will like to caution security agencies to resist the temptation to latch on the President's directives to commit further atrocities on citizens as any security officer responsible for any act of violence and excessive use of force or firearms would be held personally liable".

"Under international laws which Nigeria subscribes to, superior order is no excuse or justification and cannot exculpate any security officer who misuses his or her authority or indulges in abuse of fire arms.

"Previously documented cases of killing, torture and abuse by the military in the east and the North are yet to investigated and perpetrators brought to account.

"NOPRIN and other human rights groups in different parts of the country have resolved to closely monitor the activities of security agencies with a view to identifying those who would engage in excessive use of force and violence. We will file petitions against such officers before the International Criminal Court and other relevant international bodies and agencies with a view to ensuring that they are held to account".

On this note, FG should not allow this historic meeting between IPOB and the South East Caucus in the Senate to be in vain. The time to act is now!
en
SOURCE :The Nigerian Voice (opinions)