Aregbesola commiserates with Family of his former aide, Amuda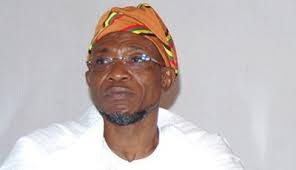 By Olawale Adewale, The Nigerian Voice, Osogbo
Osun State Governor, Ogbeni Rauf Aregbesola, has expressed sadness over the demise of his former Special Adviser on Works, Engineer Sabitu Oladepo Amuda who passed away on Saturday.
The Governor in a condolence message signed by his Media Adviser, Mr. Sola Fasure, said Amuda's death was a great loss to the State, adding that his contribution to the development of Osun will not be forgotten in a hurry.
Aregbesola said his and Engineer Amuda's path first crossed in Lagos as an official of the state government, where he contributed enormously to the physical development of the state, before he joined him in his first term in office, where he also contributed immensely to the road infrastructure design and development of Osun, his home state.
The Governor, while commiserating with the family of the late politician, said the State under his administration and afterwards will continue to remember Amuda's modest contributions to the progress and development of Osun.
The statement said: "The death of an astute engineer and a dutiful son of Osun, Sabitu Oladepo Amuda, came as a surprise and indeed a sad one at that.
"Those who knew and worked with Amuda will testify to his vast knowledge in the field of civil engineering and construction. He was a thoroughbred professional and a workaholic.We shall definitely miss him".
"On behalf of the government and good people of Osun, I want to express our heartfelt condolences to the family of Amuda on this great and irreparable loss. He surely paid his dues and the people of Osun will always remember him.
The Governor prayed to Allah to repose his soul in Aljannah Firdaus.
en
SOURCE :The Nigerian Voice (local news)