Aregbesola Mourns Famakinwa, DAWN DG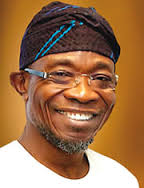 By Nofisat Marindoti, Osogbo
Governor of Osun State, Mr Rauf Aregbesola on Friday expressed shock over the death of the Director General of the Development Agenda for Western Nigeria (DAWN), Mr. Dipo Famakinwa.
Aregbesola said Famakinwa's sudden exit has left a sour taste in the mouths of all stakeholders in the development agenda for the South-West.
In a statement by the Director, Bureau of Communication and Strategy in the Office of the Governor, Mr. Semiu Okanlawon, Aregbesola has played a pivotal role in the efforts to integrate the South-west and use the platform to engender a new growth for the people of the region.
"We are left speechless with this sudden loss," Aregbesola was quoted as stating.
The statement went further, "Famakinwa was very dogged in the pursuit of the assignment given to him. He was committed wholeheartedly to the progress of the Yoruba. Through the Development Agenda for Western Nigeria, we have moved to accelerate regional revolutionary growth to rediscover our strength as a people of common heritage through agriculture, culture, education, and even sports development.
"Since the birth of that organization, Famakinwa has left no one in doubt on his comprehensive understanding of what we set out to do and the zeal with which he pursued the assignment has been commendable."
The Governor added it is painful that the late Director General of DAWN did not live long enough to see the objectives of the organization come into full fruition before his untimely exit.
"We are however consoled by the fact that Famakinwa did his best to raise the consciousness of this region. We are also consoled by the fact that death is a necessary end and must come when it is its time.
"On behalf of the good people of the State of Osun, I commiserate with his immediate and extended families, members of the DAWN Commission family, my colleague governors and other stakeholders in the development agenda of our region. May the soul of Famakinwa rest with his Lord perfectly."
Source: The Nigerian Voice (local news)