Aregbesola rejoices with Muslims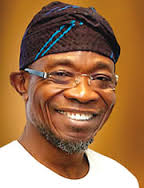 By Nofisat Marindoti, The Nigerian Voice, Osogbo
The Osun State Governor, Mr Rauf Aregbesola, has urged Muslims who have just completed one month of fasting to pray for an urgent end to festering hate comments that are threatening the corporate existence of Nigeria.
Aregbesola also urged them to sustain the advancement they attained in moral standards even after Ramadan while asking them to make use of the opportunity of their state of piety to pray for the redemption of Nigeria from many of the social, economic and political complications that have beset it.
Aregbesola expressed joy with the Muslim faithful that the one month of fasting has come to its end, admonishing however that efforts should be made to sustain the moral rebirth which they achieved within the period of fasting is sustained even beyond the month of Ramadan.
The Governor, in a statement made available by the Director, Bureau of Communication and Strategy, Mr. Semiu Okanlawon, said Nigeria is in dire need of new directions, noting that a new orientation is possible only when people are ready to drop their old habits for a new culture of fear of God.
The Governor expressed regrets over festering ethnic tensions while saying that prayers however can heal the wounds created by the hate comments among the different peoples that make up Nigeria.
"The one month of Ramadan came to its end yesterday and we are grateful to God for this. We wish to admonish our people on the need to sustain that higher moral altitude they attained while fasting lasted. The point is that this is needed for Nigeria to navigate the current turbulent waters and achieve stability.
"It is our belief that the current tension associated with unending hate speeches and threats in our country can be resolved through prayers. We therefore need that prayer to keep Nigeria a united prosperous entity and we can only do this if we rededicate ourselves to God."
en
SOURCE :The Nigerian Voice (local news)