Aregbesola says he's consoled by Nigerians' show of love over mum's death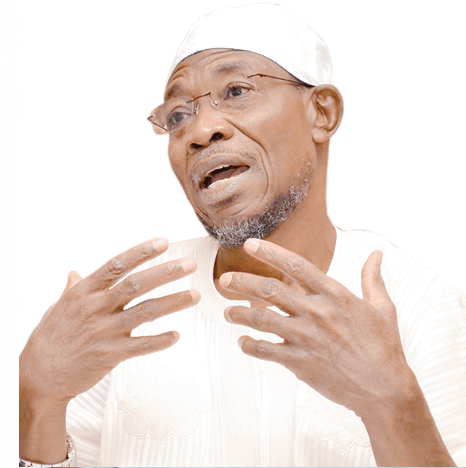 By Nofisat Marindoti, The Nigerian Voice, Osogbo
Osun State Governor, Ogbeni Rauf Aregbesola on Friday expressed grief on the demise of his mother, Alhaja Saratu Aregbesola, even as he said he found consolation in the love being showed to him by Nigerians.
Aregbesola stated this while receiving the Governor of Kwara state, Alhaji Abdulfatai Ahmed who paid him a condolence visit at the government house, Osogbo.
Expressing the deep sadness and sorrow the death of his mother has brought, Aregbesola stated that it is a huge sorrow for him to lose his mother at this time.
The governor said he might be putting up bright faces for the purpose of the camera and the general public, noting that in actual fact, he has been feeling really sad inside.
Aregbesola said he was grateful for the honour of having a mother whose death has brought the kind of goodwill he has enjoyed over the past few days.
He said: "It is such a huge sorrow for me to lose my mother at this time, I feel pained by her death despite the bright faces I have had to put up because of the cameras over the past few days.
"You may not see it on my face, but indeed it is so painful to me.
"There is no strict definition of sorrow; whatever brings sadness to you is indeed sorrowful. It is indeed very sorrowful to lose ones mother."
Aregbesola said the show of love from people which include the president of the country have been like a soothing balm to him.
The governor said: "I am consoled by the fact that good men and women of Nigeria and beyond have identified with me in this time of my grief.
"Many people from across the world including the president of Nigeria have shared my grief with me and with this I can say I grief no more.
"I appreciate the condolence visit of the people of Kwara through their governor, it is like a soothing balm which is doing me a lot of good."
Speaking earlier, Kwara state Governor, Abdulfatai Ahmed urged Aregbesola to take consolation in the fact that his mother was not only able to nurture him but nurtured him into a successful man.
He said it was also gratifying that the late Alhaja Saratu Aregbesola left behind a legacy as result of what Aregbesola has done for the state of Osun through infrastructural developments.
According to the Kwara governor, "We know it is a trying and grieving period for you, but we have to thank God that she led a good life and left a good legacy behind through you.
"Since coming into governance in Osun, you have done really well in building infrastructures in this state and it also to the credit of late mother because she nurtured you right"..
en
SOURCE :The Nigerian Voice (local news)