Ariana Grande back in the studio working on new music after Manchester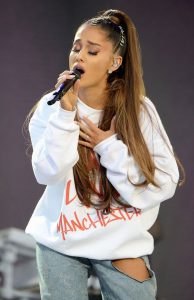 Ariana Grande fans hoping for new music from the "Break Free" singer are in luck!
On Wednesday, the 24-year-old songstress gave her Arianators a peek on her life in the studio, where she's recording her first new music since the horrific bombing at her Manchester concert in May that left 22 dead and injured 250.
The look behind the curtain was inspired by blurry picture shared by a Grande fan site that claimed it was her working in the studio.
"I'm pretty sure dis is very old or fake," Grande explained, screen-grabbing the post on her Instagram Stories account. "If u wanted confirmation that I've been workin why didn't you just ask?"
She then went on to post a photo and video of herself hunched over a computer in the studio, seemingly mixing tracks.
> First published in People Music
en
SOURCE :The Nigerian Voice (local news)