Armed Robbery Gang, Kidnap Kingpins In Delta Sentenced To Death By Hanging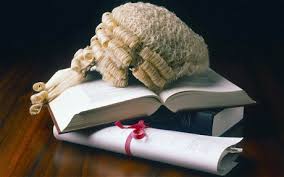 By Kenneth Orusi, The Nigerian Voice, Asaba
A Delta State High Court sitting at Warri Judicial Division six years after has sentenced two members of a notorious gang of armed robbers and kidnappers terrorizing Oleh in Isoko South Local Government and its environs to death by hanging or firing squad for kidnapping and multiple armed robberies.
The Court presided over by Honourable Justice A.A. Onojovwo, on Friday, June 30, 2018, while delivering its judgment found Ejemuta Adam Ogofure, a driver and native of Canan Community in Isoko South Local Government and Collins Okoro, from Ekieugbo, Ughelli North local government, who claimed to be a HND student of the department of Banking and Finance of the Delta State Polytechnic, Oghara, guilty of the charge of conspiracy to commit armed robbery, kidnapping, attempted kidnap and demanding property with menace.
Justice Onojovwo who condemned the criminal acts of the two accused persons for their complexity in multiple armed robbery operations were sentenced for kidnapping Mr. Ogboghro Vincent, a Polytechnic Don with the Delta State Polytechnic, Ozoro who was kidnapped by the criminal gang on the 7th day of May, 2012 at Irri, within the Oleh Judicial Division and also robbed him of his Honda Accord (Baby Boy) car with registration No. AL 51 LEH. They placed a ransom of 5million naira before he could be released
In his verdict, the trial Judge ruled that prosecuting Counsel from the Delta State Ministry of Justice, Jereoma Sam-Oligida (Mrs.) have proved beyond reasonable doubt essential ingredients of the crime of conspiracy to kidnap one Mr. Ogboghro Vincent, and the attempted kidnap of one Mrs Precious Ibenegbu.
Justice Onojovwo also held that prosecution was able to establish the case of the substantial offence of kidnapping and multiple armed robberies against two out of the three accused persons arraigned before the court on a 10 count charge.
The court however, discharged the 3rd accused person, 24 years old Jonny Oghenemairo of all charges for want of sufficient evidence but was seriously warned to desist from committing crime as he might not be lucky when arrested again.
The trial Judge who sentenced Ejemuta Adam Ogofure and Collins Okoro to death by hanging for the offences of armed robberies, slammed both defendants with a sentence of 5 years imprisonment each for conspiracy to commit kidnapping and 7 years imprisonment each respectively for kidnapping. They were charged under the old law that prescribed a maximum punishment of 10 years imprisonment for offenders.
Counsel to the State, Jereoma Sam-Oligida (Mrs.) through prosecuting witnesses had told the Court that after Mr. Ogboghro Vincent was kidnapped and robbed of his car and other valuables, he was whisked away to somewhere around Otrofani, Bayelsa State where he was unlawfully kept while a ransom of 5Million naira was demanded from his family members before his release.
The court was further told that a ransom of N700, 000 was eventually paid to his captors before he regained freedom after spending 10 days in captivity. The convicts with others now at large are members of a criminal gang responsible for terrorizing Oleh, Irri, Aviara and its environ before they met their waterloo when they attempted to kidnap one Mrs. Precious Ibenegbu at Oleh when their vehicle got stuck in a muddy road and their victim harped on the situation to raise an alarm.
The armed groups are also responsible for series of armed robbery and kidnapping operations within the headquarters of Isoko south and surrounding communities. They were also sentenced to death for robbing one Honourable Blessing Ese, a former Counsellor of his Honda Accord car with registration no BP 134 GWA and other valuables on the 21st day of June, 2012 while armed with guns.
en
SOURCE :The Nigerian Voice (local news)