Army Acquires 500 Hectares Of Land For University In Borno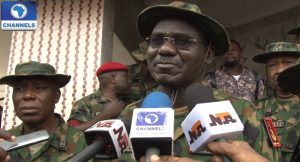 The Nigerian Army has been allocated 500 hectares of land by the Borno State Government, for the establishment of a military university.
The university would be an upgraded version of the Army's already existing Institute of Technology and Environmental study in Borno State, north-east Nigeria.
Chief of Army Staff, Lieutenant General Tukur Buratai, said this at the opening ceremony of the Quarterly Chief of Army Staff Workshop in Maiduguri, the state's capital.
General Buratai noted that year 2017 in perspective, is lined up with activities tailored towards capacity building of personnel and implementation of the Nigerian Army's reviewed Order of Battle 2016.
He added that the Army intends to invest in research and development, in order to encourage personnel to come up with indigenous ideas and innovations.
"The NA Institute of Technology and Environmental Studies is being upgraded to NA University. The university is being conceived as a unique university that would be different from other conventional universities in Nigeria.
"The concept is to make it a solution provider and a centre of excellence for a variety of technical related ventures, such as power generation and armament production.
"Pursuant to this, the Borno State Government has approved 500 hectares of land located at Biu for this," the Army Chief said.
The workshop centres on the activities carried out in the first quarter, and further briefing for the second quarter in the Nigerian Army forecast for the year 2017.
The event, which took place at the newly constructed Command Guest House along Baga road in Maiduguri, had in attendance Brigade Commanders and General Officers Commanding.
SOURCE: Channels Tv