Army Announces N 5 Million Bounty On Information That May Uncover Bomb Making Factory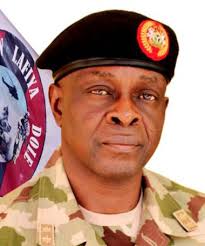 By Ahmed Abu, The Nigerian Voice, Maiduguri
Following the increased suicide bombing attacks, the theater command, Operation Lafiya Dole has placed a N 5 million ransom on any information that can lead to the tracing and restriction of Improvised Explosive Device (IED) making factory in the Northeast.
Briefing journalists at the Military Control and Command Center on Thursday, the theater commander, Operation Lafiya Dole, Major General Rogers Nicolas said "we have N 5 million ransom on anybody who gives information on whereabout of bomb making factory in Borno Adamawa, Yobe ad any part of the theater".
" I know the bomb making factories are located within our communities, security is not only for the military or other security agencies but a collective one, anybody who has information on whereabouts of IEDs factory should contact me, the police, DSS or any other security agency, he has a N5 million ransom," General Nicolas stated.
He said "within one month, we took off over 35 suicide bombers, arrested 25 in Bama, Konduga, Maiduguri, Tungushe, Madgali and Mubi in Borno and Adamawa states. You should assist us to secure our communities."
The theater commander also appealed to the general public more especially those in the Northeast to always volunteers information on the movement of Boko Haram insurgents, as they pass their villages or communities before ambushing or attack any community or military locations.
He further stated that since he assumed office over 1 million people were rescued from Boko Haram captivity in various operations.
"We have deciminated and degraded the Boko Haram insurgents through our efforts to secure northeast. They no longer have the capacity to launch an attack on the military that is why they resort to attacking soft targets through suicide bombings," he added.
General Nicolas said as a result of the success gained in the operation, they have started to return IDPs to their communities, with peoples of Guzamala that constituted the first batch with over 2,000 IDPs returned voluntarily, while those of Marge and Abadan will son fellow suite to enable them go back to tier farms, as rainy season set in.
Hr also appealed to the media to always support the military to win the war by positive reportage, as terrorist thrive on propaganda as their oxygen, pointing that they were surprised to see that many media organisation repeatedly shows the recent Boko Haram report on Dambos rather than showing the achievements of the military.
en
SOURCE :The Nigerian Voice (local news)