Arsene Wenger to remain Arsenal manager after agreeing to new two-year contract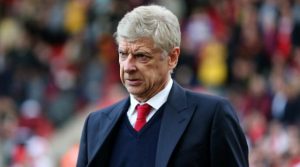 Arsene Wenger will return to Arsenal as manager next season after agreeing to a new two–year contract, reports The Daily Telegraph.
The club is expected to announce the move formally on Wednesday.
Wenger met with majority shareholder Stan Kroenke on Monday, and the duo were expected to notify Arsenal's board of directors on Tuesday of the decision.
Wenger completed his 21st season in charge of Arsenal last weekend, leading the club to an FA Cup final victory over Chelsea. But while the season ended with a trophy, Wenger's hold on the club has never seemed more tenuous than the last few months.
Arsenal finished fifth in the Premier League this season, failing to place in the top four and qualify for the UEFA Champions League for the first time in Wenger's tenure. For Arsenal fans, just as painful was the club finishing behind archrival Tottenham Hotspur for the first time since the 1994-95 season. The Gunners narrowly missed out on top four, but the team finished the year a staggering 18 points behind title–winning Chelsea and 11 points behind second–place Spurs.
The sentiment among some Arsenal fans that the club should part ways with Wenger isn't new, but it was louder than ever this season amid the club's Premier League struggles and a drubbing from Bayern Munich in the Champions League round of 16. The uncertain futures of stars Alexis Sanchez and Mesu Ozil, whose contracts expire next summer, certainly didn't help quell dissatisfaction with Wenger.
As speculation over his future mounted, Wenger didn't offer much commentary, only saying that he preferred to stay in his role. It seems he got his wish.
en
SOURCE :The Nigerian Voice (local news)