As an Actor, Dental Hygiene is Very Important…Actress, Tina Mba Educates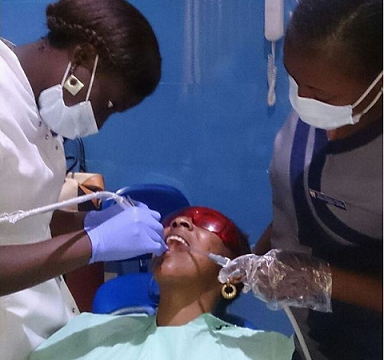 Source: Nathan Nathaniel Ekpo/Nollywoodgists.com
Some Nollywood celebrities are now paying close attention to their health these days no matter how little the pain is just to avoid stories that touches the heart.
One of such actor is Nollywood actress, Tina Mba, who recently visited her Indian Harbour Dentist after she had beared the pain from a part of her teeth for some time now.
Aside just feeling the pains, she knows that she will have to play a movie role where she has to kiss and would not like her partner to feel irritated at the smell that will ooze out.
"As an actor, my dental hygiene is very important, so i shcedule an appointment with the fantastic Dr Adedayo from the Peve cosmetic dentist clinic. Thank you for giving me my smile back," she shared.
Cosmetic dentistry may involve: the addition of a dental material to teeth or gums for examples: bonding, porcelain veneers (laminates), crowns (caps), gum grafts. the removal of tooth structure or gums, for example example: enameloplasty and gingivectomy.
en