Asaba 2018: Nigeria Records 5 Gold Medals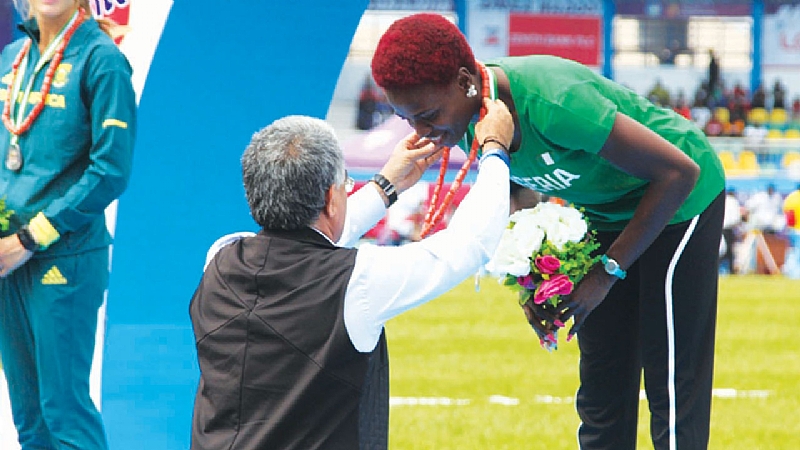 By Kenneth Orusi, The Nigerian Voice, Asaba
Nigeria Saturday recorded 5 gold medals in both track and field events in the ongoing African Senior Athletics Championship in Asaba, Delta state.
The gold in track event was recorded as the Nation clinched victory in the Women's 4× 100m Relay, beating Cote D'Iviore and Kenya who won silver and bronze respectively.
The Nigeria's Olympic Medalist, Blessing Okagbare, ran amidst her injury woes to help the team win gold in the event.
Speaking during an interview, she said "The relay is like a team effort, so the team went out there, worked with each other and trust each other that we can win", she stated.
She also mentioned that she ran with pains but she did it in order to make her fans and Nigerians happy as they all expected her to participate in the Women's 100 and 200 meters event.
According to her "I had injuries; I have been trying as my running here has been 50/50 but I waited to know how I would feel. Not participating was one of the most difficult decisions that I had to make as this Championship actually means a lot to me as my state. There are certain things you cannot control; it took me the morning of the race to actually tell them I couldn't run".
She stated that the success of Nigeria was a result of sustaining the team that was involved in the same event at the Commonwealth games.
We didn't have to think too much, the only thing we did was that we changed our steps. Though the form we were on was different in that games was different from this, so we had to change our steps and trusted each other.
While she stated that she ran at her strongest spot which made it easy for her to close the gap between herself and the next runner.
"I love doing the second leg as it is important to me as it gives me enough time to run and get the job done", she added.
en
SOURCE :The Nigerian Voice (local news)