Atiku Cancels Birthday Party In Honour Of 44 slain soldiers – Gives scholarship to victims' children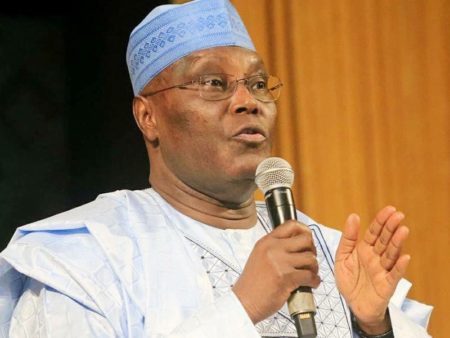 In an emotion-laden words, a palpably broken Atiku Abubakar, former Vice President, on Wednesday, bewailed the death of the 44 soldiers and some civilians, reportedly killed by Boko Haram terrorist group, currently devastating parts of the North East, last Sunday.
Atiku, presidential candidate of the Peoples Democratic Party (PDP), in a condolence message dripping with pain, which was sent to the Nigerian Army, said he was completely devastated by the news, saying he had decided to cancel activities concerning his birthday this year.
The letter, read: "My condolences to the Nigerian Army over the recent attack that led to loss of lives of officers and men of the 157 Task Force Battalion in Metele, Borno State.
"These deaths are very painful and the loss of even one member of our armed forces pierces my heart because these heroes did not have to die. They volunteered to do a job that keeps this nation safe.
"The gallant men and women of our security services are our first and last line of defence against enemies of our nation and deserve the support and confidence of all Nigerians. We sleep well at night in our beds, because they stay awake uncomfortably in the fields.
"I feel immense sadness when I think of the families they leave behind and pray for Almighty God to grant their surviving family members fortitude to bear up in a time like this.
"These men and women gave their best and we must reciprocate their sacrificial giving. Therefore, instead of celebrating my birthday this year, which is coming up in a few days, I choose to rather celebrate our fallen heroes. As such, I hereby declare an endowment to provide full financial scholarships to five children of our fallen heroes from the 157 Task Force Battalion in Metele up to whatever level they are able and willing to reach at the American University of Nigeria, Yola.
"I further call on those who desire to celebrate my birthday, that instead of sending me gifts, they should donate their gifts and money to the widows and orphans of our fallen military heroes.
"I also call on all Nigerians, rich or poor to do what they can for the families of our fallen heroes. They gave us all. We owe it to them to show love and support to the families they left behind.
"Finally, I call on the Federal Government to think about setting up a benevolent fund for the support of widows and children of our fallen military heroes, run by an independent body, to which the public and corporate bodies can pay in funds. This is the least that we owe these gallant heroes.
"May God bless the Nigerian Military. May God bless the Nigerian Army. May God bless Nigeria."
en
SOURCE :The Nigerian Voice (local news)