Babatunde Raji Fashola, San At The Frsc Capacity Building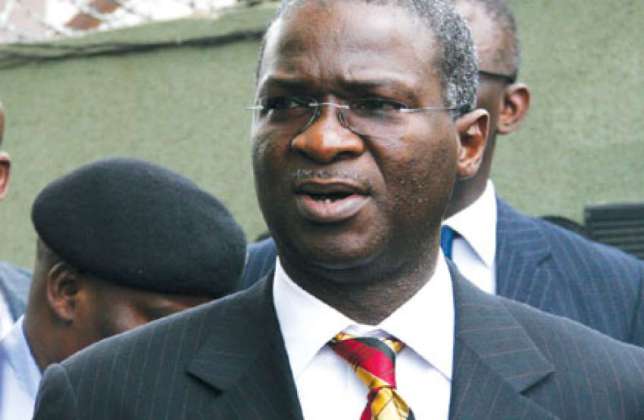 KEYNOTE SPEECH DELIVERED BY BABATUNDE RAJI FASHOLA, SAN AT THE UNITED NATIONS SPONSORED FEDERAL ROAD SAFETY CORPS CAPACITY BUILDING FOR IMPLEMENTATION OF THE UNITED NATIONS ROAD SAFETY LEGAL INSTRUMENTS
I welcome this opportunity to be your Keynote Speaker at the United Nations-sponsored Capacity Building Program for the Federal Road Safety Corps (FRSC).
This opportunity provides me with a very important public platform to share my thoughts about the direction in which I think FRSC should be heading, and what we, the Government of Nigeria, should be doing to enable her towards that direction.
I will also use this opportunity to address some assumptions and explode some myths about road traffic accidents in Nigeria, and what we should be doing to reduce the incidents of road traffic accidents, and the attendant loss of life, limb and property.
The technical capacity which the facilitators from the United Nations Economic Commission for Europe Road Safety Secretariat will offer the FRSC is only one side of the capacity issues that FRSC needs.
The other side of FRSC's needs is in the nature of equipment, tools, infrastructure and financial resources necessary to give them a visible and responsive presence on all Federal Highways in Nigeria.
Thankfully, the Corps Marshal, Mr. Boboye Oyeyemi, who is very passionate about his work, has responded to my request to him to submit an inventory of needs like bikes, patrol vehicles, and medical equipment that can help save lives. This is in the region of N16 billion in the first instance, and I have directed our Ministry to send this to the office of the Secretary to the Government, who supervises the FRSC on behalf of the Presidency, to whom FRSC reports.
I made a case for support for this funding to the Senate Committee on FERMA when I appeared before them recently, and not only are they well-disposed to the idea of appropriately resourcing FRSC, they expressly committed to taking action to sensitise their colleagues to the necessity.
This is as it should be, because if security and safety of lives and property is a most important duty, agencies like FRSC, who are our first responders at scenes of road accidents must be well-equipped to respond within the Medical Golden Hour, to ensure that accidents, when they inevitably occur, do not result in loss of life.
Not only must FRSC therefore have the necessary complement of vehicles and bikes to track down over-speeding drivers and bring them within control, they must have Mobile Intensive Care Units on wheels (not mere ambulances), with doctors, nurses, paramedics and other medical personnel at strategic points nationwide, to administer First Aid , and other life saving measures until victims are successfully moved to proper hospitals.
Really and truly, investing in at least one helicopter with medical evacuation capacity and well-trained staff for FRSC in each geo-political zone, if it is just to save one Nigerian life (which may be anybody), is consistent with one of the 3 (three) pillars of the Economic Recovery and Growth Plan (ERGP) which is "To invest in our people".
While there is a lot more that can be said about building the capacity of FRSC, I will leave the details to the FRSC. I think the most important point has been made: we must invest to save lives.
The other point, which lies at the heart of FRSC's existence, the UN capacity building program, and everything that FRSC stands for, is Road Safety, Road Traffic Accidents, the causes, and what we must do more of to reduce the incidents.
First, let me speak to the conditions of our roads.
I will classify them into 3 (three) broad categories, namely:
A. Those that have outlived their design life;
B. Those that are within their design life; and
C. Those that are just being built.
For those that have outlived their design life, they should have been replaced and rebuilt, but they have not. Roads like the Calabar-Itu-Odukpani fall within this category.
They were built in the 1970s, and not only have they outlived their design life, they have had to deal with tonnage and capacities well beyond what their design intended.
Can such a road be truly expected to stay intact and deliver a pleasant motoring experience? Put differently, can anyone of us today wear the same clothes we wore as teenagers and expect it to fit and not rip apart?
Thankfully, these type of roads are now receiving attention under President Buhari, as the Calabar-Itu-Odukpani, Gombe-Biu, Ilorin-Jebba and other roads that fall within this category are being awarded for reconstruction, along with the third class of roads which are just being built (like Oyo-Ogbomosho Bye pass, Loko-Oweto Bridge, 2ndNiger Bridge, Kaduna Bye pass, Kano Bye pass), where contractors have returned to site, after demobilizing for non-payment for up to 3 years.
As for the second category of roads, which are within their design life, they have been victims of overloading, right of way abuse, and lack of maintenance as depreciation sets in.
Members of the public must know that roads are depreciating assets. They do not last forever, and require regular maintenance and, with time, replacement, if they are to serve their intended purpose.
These factors of abuse and lack of maintenance combine to reduce the quality of our motoring experience on the roads. With this background, I will now pose the questions: How bad are our roads?
Some have repeatedly said, "All the roads are bad."
That is not true.
We have good parts, and bad parts caused by abuse and lack of maintenance.
Can you sleep in your office suit and shirts, refuse to wash and iron them, and really expect them to look good on you?
A recent survey that I directed should be conducted produced instructive and educating results about the degree and extent of bad portions of our roads.
Otta-Abeokuta road in Ogun State, with a length of 64km, has failures at:
A. KM 20 + 775 to 23+275 (2,500 metres) at Sango-Otta flyover to Tipper Garage;
B. KM 24+275 to 24+725 (550 metres) at Owode to Ifo;
C. KM 44+113 to 53+147 (9,034 metres) at Papalanto to Itori
A total failure length of 12,084 m out of 64,000 metres, which is 18.75%
While 1 meter of failure is not acceptable, and we are mobilizing the contractor back to this road shortly after 4 years without a budget, the point is that 18.75% out of 64KM does not support the conclusion that "all" of the road is bad.
A similar survey on the Asaba-bound sections and Benin-bound sections which I asked to be carried out on the Benin-Asaba Dual Carriageway last week, also showed that the total aggregate of potholes and failures on the Asaba-bound section amounts to 3.02% of the total road length, while the total aggregate of potholes and failures on the Benin-bound section is 1.51%.
We are preparing remedial action to restore these sections.
The same is true of the Asaba-Illa-Ebu-Edo State border road, which is one of 44 roads across Nigeria and the 6 (six) geo-political zones where remedial work will start in a few weeks time once we conclude procurement.
These roads are the inherited legacy of road abuse and lack of maintenance, which President Buhari intends to change. This is why President Buhari has recently reconstituted the management of FERMA, the statutory agency responsible for maintenance of our roads.
They assumed office in the first week of October 2017, and from my interactions with the team, I am optimistic that Nigerians will experience change on their roads when they begin to implement their maintenance plan, which they constantly review with the Ministry.
Many of us, some of whom have not used the roads, readily describe our roads as a Death Trap. Really?
I undertook a tour of our roads earlier this year to see things for myself. We went by road and travelled in two coaster buses, driving for at least twelve hours everyday. We left at 8a.m daily and drove until 8p.m at the least. On one occasion, we drove for 18 hours, from 8a.m to 2a.m the following day.
We drove through different sections of roads that had outlived their design life, those that are within their design life with failures in some cases, and those that are currently under construction, where the drive was smooth.
We were not trapped, and we did not die. The only incident we had as we traversed 34 states (with Jigawa and Kebbi left to tour) was a tyre change on the Numan-Jalingo road. We drove at a maximum of 100km per hour. We had no accident.
How many people remember that there is a speed limit on our roads, in spite of FRSC's efforts to introduce speed-limiting devices? How many people know or remember that there is a braking distance in driving?
FRSC will be 30 years next year, and they have acquired enormous experience and data that we must use if we are to reduce road traffic accidents and save lives.
Every month, my office receives a copy of the road traffic incidents Report across the country from FRSC, which I read, and direct that the Ministry respond to the findings and recommendations as they relate to road conditions, and causes of accidents.
Between June 2015 and August 2017, the report and data gathered by FRSC reveals indisputably that the biggest causes of Road Traffic Accidents on our roads are as follows:
A. Speed violation – 26.63%
B. Loss of Control – 23.04%
C. Dangerous Driving – 9.37%
D. Sign light violation – 9.57%
E. Tyre Burst – 6.25%
F. Wrongful overtaking – 5.92%
G. Bad road – 0.55%
Of course there are other causes like Brake failure, sleeping on the steering, poor weather, overloading, which are not indexed above because they are not necessary to make the point that bad roads are not the primary cause of accidents.
Based on this data collated by FRSC, whose sector commanders in all 36 states and the FCT are our first responders at accident scenes, can anybody still make the argument that bad roads are the cause of Road Traffic Accidents? It seems not.
However, while I am willing to agree that bad roads may contribute, an unlicensed driver (and, presumably, an incompetent one); a driver with bad sight (without corrective glasses); an over-speeding driver; one who does not know the appropriate pressure to inflate his tyre; or who does not know that he should not overtake at a bend, does not help his own safety or that of the other road users.
Poor sight and these other factors must be addressed as we saw recently at the accident scene that occurred on Kara Bridge in Lagos, where there was no pothole and people still died in an accident.
Ladies and Gentlemen, I will now conclude by restating some of the things that we need to do, which are easy, in order to reduce incidents of Road Traffic Accidents and loss of lives.
As we prepare for the high volume of traffic that will characterize end of year movement for Christmas, FRSC has been mandated to undertake random checks for drivers without driver's license, who must be taken off the roads to reduce the threat they constitute to themselves and other road users.
FRSC will also take steps to curtail over-speeding and reduce incidents caused by over-speeding. They will also, within the limit of their resources, ensure observance of traffic rules, restrict drivers to their lanes, reduce incidents of wrongful overtaking, and, hopefully, reduce accidents.
This undertaking of protecting lives and preventing loss of property is not that of FRSC alone. All of us, as road users, employers, have a role to play.
It will help us if those who own transport businesses play their part by ensuring that all their drivers undertake mandatory eye test and get corrective glasses to help their vision, improve their judgment, and reduce driver errors.
All my own drivers have been subjected to those tests and so have I. I do not need my glasses to read.
I need them to see better because I am short-sighted.
All those who drive over long distances must invest in their own safety and get enough rest before undertaking long journeys; and where necessary, fleet operators must recruit relief drivers.
Finally, in all that FRSC has to do, I have met with all the sector commanders and impressed upon them the 'S' in their name is the most important reason for their existence.
It stands for 'Safety'.
They must remember that whatever they do must be in aid of safety and not contrary to it.
I wish you all a safe motoring experience and a Merry Christmas, as our Government continues to improve safety on our roads and give you a better motoring experience.
Babatunde Raji Fashola, SAN
Hon. Minister of Power, Works and Housing
28th November, 2017
en
SOURCE :The Nigerian Voice (local news)