Benue Govt. Increases Bounty On Capture Of Terwase Akwaza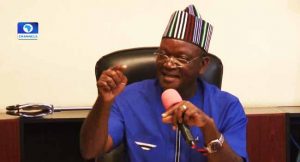 Benue State Governor, Mr Samuel Ortom, has increased the bounty for the capture of Terwase Akwaza, to 10 million Naira.
The reward for the suspect also known as 'Ghana', follows the recent arrest of 18 associates of the gang leader and recovery of large cache of arms.
Governor Ortom revealed this at an event held in Honour of his retiring aide -camp, Deputy Superintendent of Police, jimmy Agaku.
In August 2016, Governor Ortom had pledged to give a reward of five million Naira to anybody with useful information about the alleged criminal, who till date is still at large.
SOURCE: Channels Tv