Benue Killings: Between Lauretta Onochies Mockery and Buharis Committment to Peace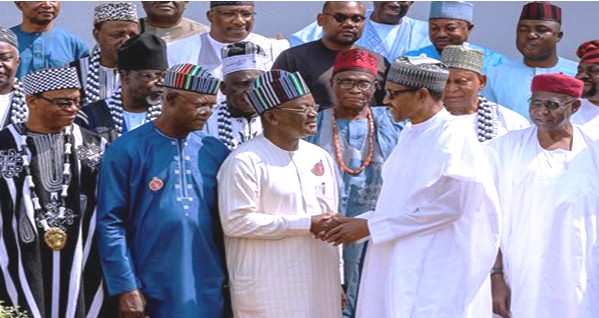 I have just finished a meeting with stakeholders from Benue State. My message to them: I will fully keep the oath I swore to protect all Nigerians. The police, Army and DSS are working hard to keep Benue safe, and to bring all the perpetrators of the killings to justice.- PMB (15/1/2018)
The above speech was after a crucial meeting with Benue stakeholders on tackling unwarranted killings in Benue State by Fulani herdsmen. While the president's Personal Assistant on New Media who operates the Presidents personal facebook Page, Mr. Bashir Ahmad, posted this by 4:00 pm earlier today; this has been the only cogent speech by Mr. President as regards the attempt to annihilate the Benue people.
Unfortunately while the people went out to rejoice the supportive comments of the president, his Senior Special Assistant on Social Media, Ms. Lauretta Onochie took to the same medium via her facebook account to describe the death of nearly 2000 killings as a mere cult clash belonging to Sen. Barnabas Gemade, Gabriel Suswam,Gov. Samuel Ortom and Sen. George Akume over the leadership of the Zaki-Biam yam market.
According to Ms. Onochie who is supposed to be the mouth piece of the president on social media, the meeting from which President Buhari promised peace had discovered that the killings in Benue State can only be likened to the cult clashes and not an attack on helpless farmers as widely known.
I would'nt normally bother about a lackadaisical post on facebook from an elderly woman who is yet to outlive her youth, since it is common in her several trouble-shooting rants on facebook, neither am I particularly concerned about the libellous and defamatory statements against esteemed leaders of the Benue people.
However one must be concerned about such utterances when they come from the person believed to be speaking the presidents mind; it will be however reasonable to take serious such spurious statement coming from Government quarters at a period when the Nation looks to peaceful resolution of crisis scattered all around the nation.
This will certainly be a point of worry when such slapdash is mentioned from high quarters over an issue that has already heightened tension.
It is most disturbing when the said aide continues to spew such imprudent statements immediately after her boss had told the people present he was looking into valuable solutions to the killings in Benue State; the need to examine the motive of such destructive campaign after the President had promised peace is of the essence.
This repugnant utterance becomes a point of fret when it comes closely on the heels of an exaggerated and unsolicited defensive statement by the same Ms. Onochie poking fun at the massacre in Benue as she claimed there was never such killings but instead over 200 Fulani herdsmen were killed in Benue without anyone to speak on their behalf, thus her choice to become their mouth piece.
Considering the fact that only last week the Inspector General Ibrahim Idris in what he termed a misrepresentation of his own speech by no other person than himself, described the pogrom ongoing in Benue State as a communal clash, without any deterrent measure taken save for a lame apology, this irksome gibberish is worthy to note.
Juxtaposing these positions coming from President Muhammadu Buharis own kitchen at a time when hundreds of thousands have been displaced, properties and lives lost in their numbers alongside a grumbling Benue people who have cried foul and marginalisation from the same Buhari whom they voted massively for in 2015, it will only be wise for the president to dissociate himself from every wrong vibe, especially that which emanates from his kitchen.
The refusal of Mr. President to invalidate such unguarded assertions with far reaching reprimand, will rather prove to the Benue that the irritant Ms. Onochie is only playing a script written by the president himself.
Because I believe my President is a man of honour and intergrity; a leader who is fair and just; a man who does not speak from both sides of the mouth I go to bed in anticipation that this impolite presentation of a helpless situation in Benue will not go unpunished.
Unless the my President begins to prove that he is for everybody and for nobody by chastising the loquacious Lauretta Onochie, the his sincerity to the Benue killings remain a questionable narrative.
Ati Terkula writes from the Internally Displaced Peoples (IDP) camp in NKST Primary School, Anyiin, Logo Local Government Area, Benue State. Email: [email protected]
en
SOURCE :The Nigerian Voice (opinions)