Bequeathed legacies as Aregbesola bows out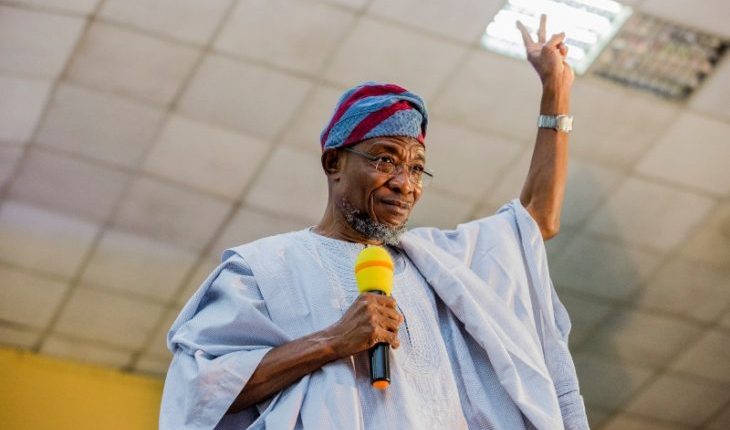 With few hours to the end of Rauf Aregbesola's tenure as governor of Osun, it is settled that most of his outstanding achievements for which history will remain grateful to this workaholic have been well-documented.From Infrastructure, Health and Agriculture, to human capital development, even to some other areas which may be considered as intangibles, the state has scored many firsts and I have no doubt in my mind that posterity will be kind to the governor.
Whatever may be its definition, depiction or affiliation, leadership is a product of the solution to historically-defined problems. The pragmatic cast with which Aregbesola entered Osun and the magnitude of his popularity will for a long time be with an enduring appreciation. The closeness of his administration to the people and the reputation his tenure has created for the state, even in the face of the national economic mess, accompanied by pointless spleen-venting sentiments and muscle flexing emotions by 'hypocritical praise singers' who, to borrow the words of Matthew Kukah, "believe in nothing but their own voices", will for years leave Nigerians with no better teacher than history.
As Aregbesola's government takes its leave of 'Bola Ige House', how is this "seemingly ordinary man with the proven extraordinary abilities" likely to be remembered? Give it to the outgoing governor: he is by every standard a simple man: open, consummate and practical. He is neither extravagant nor flippant. Rather, he is as controversial as he is enigmatic. He is definitely not selfish, but has a cosmopolitan world-view. His dance steps, especially, when 'Oranmiyan Band' is involved; and sense of humour are as worthy of emulation as his stubborn commitment to the development of Osun. To think of it, the 'chattered politician' once confessed that he would have become a musician but for fate that directed his interest into politics. It was his government that changed the name, 'Osun State' to 'State of Osun.' He is also the architect of the State of Osun Anthem, Flag and Logo. Apart from pioneering a 'siren-less' regime in the state, the number of vehicles in his entourage at any particular time is also about the least in the country. Even as the state's First Citizen, Aregbesola's convoy has never been seen to have violated traffic rules. As a matter of fact, most of those vehicles he still uses as governor were inherited from the Olagunsoye Oyinlola-led administration.
Aregbesola chose to be addressed simply as 'Ogbeni', a nomenclature which was in sharp contrast to the norm in Nigeria's political landscape. The 'Government Unusual', headed by him, also introduced the 'Omoluabi' concept as the heart and soul of being human in Yorubaland. Thankfully, it has become a philosophical and cultural moral code for which every Nigerian citizen now wants to be associated. The landmark 'Walk-to-live', 'Ogbeni Till Day Break' and the Standard Weighing Scale, aka 'OsunwonOmoluabi' are among other initiatives through which the governor has endeared himself to Nigerians.
2013, the administration has been setting aside the 'Isese Day' as a public holiday for the adherents of the traditional religions, in line with the United Nations' 'Day for Indigenous Religions.'An aspiring good Muslim, 'Ogbeni' is never a man of the past but an embodiment of a hopeful future. Throughout his days in office, he never earned a dime as salary. And, for him to have succeeded greatly in this "Broederbonder's bad dream", a nation stinking with the theatrics of the "sharing of the national cake, economic growth, bickering for power and other material things" is therefore not by accident but by dogged determination.
Well, the story of Elijah and Elisha provides a rich source of guidance in addressing governance issues in Osun, post November 27, 2018. Students of the Christian Holy Book will readily attest to it that Elisha was the attendant and disciple of Elijah who eventually inherited "double portion" of the spirit that imbued Elijah when the time of his life ended on earth and was to be taken up to Heaven "in a whirlwind." The interesting part of it is that the Scripture recorded "twice as many miracles through Elisha as took place through Elijah."
Good to note that the outgoing governor has always been a lucky man. That he is being succeeded by a man of Gboyega Oyetola's status and stature in the society is therefore a blessing to the state. My understanding of the governor-elect shows a man of wisdom, experience, talent and potentials. He is a man of self-worth who, unlike King Rehoboam, is never impressed by meaningless cants or sententious assertions. Fortunately too, he is a repository of good character; and that makes him fit for the rigours and responsibilities that the office of the Governor of Osun demands. Added to these are his sense of life, love for details, spiritual depth, reverence for God and the advantage of age.
Vincent Lombardi places the "difference between a successful person and others" at the doorstep of "a lack in will", neither "a lack of strength" nor "a lack of knowledge." In the very sense of truth, the triumph charlatanism in our socio-political space is partly due to the failure of elitism. Or how do we reconcile the dividends of the "home-grown democracy" being practiced by proponents of 'Amala politics' in the Southwest with the benevolence of "rascally" miscreants posing as politicians, synonymous with the Niger Delta outlaws? Why is terrorism injuring popular and participatory democracy in the North and why is Nigeria deriving its moisture from a cacophony of contradictions, collateral corruption, cultural catastrophe, infamy of neglect, privation of poverty, cankerworms of injustice and plural mischief even in the midst of plural opportunities?
Thank God for using Moses, irreplaceably, to bring the Israelites out of Egypt; and Joshua for leading "Israel into the rest of Canaan." It is also worth repeating that Elijah and Elisha's combined legacy had a tremendous influence on Israel. Essentially therefore, Nigerians are eager to see how Oyetola will use "the mantle" democratically "let fall from" Aregbesola to "miraculously" consolidate on the latter's achievements, surmount the Jordan of salary impasse and continue in the tradition of making Osun the 'Land of the Virtuous.'
May principalities and powers, assigned to rubbish our leaders' efforts, scatter!
*KOMOLAFE writes in from Ijebu-Jesa, Osun State, Nigeria ( [email protected] )
en
SOURCE :The Nigerian Voice (opinions)