Beware of 419,I DO NOT operate or have any Facebook account- Osun Chief of Staff cries out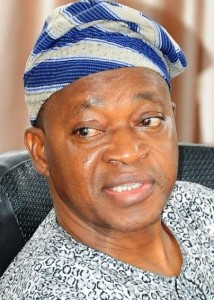 By Nofisat Marindoti, The Nigerian Voice, Osogbo
Chief of Staff to the Governor of Osun State, Alhaji Gboyega Oyetola has disassociated himself from being the owner of a facebook account named after him.
Oyetola said he neither operate nor have a facebook account and urged the general public to be watchful and observant.
This was according to a disclaimer written by the Chief of Staff on the facebook account named "ISIAKA GBOYEGA OYETOLA" and " ALHAJI GBOYEGA OYETOLA."
According to the release, "My attention has been drawn to the existence of SCAMMERS/IMPOSTORS on Facebook masquerading and hiding as, and impersonating me. I have received series of information on the accounts opened referencing me as the owner/operator of such accounts.
"The impostors ply their scams with the names "ISIAKA GBOYEGA OYETOLA" and " ALHAJI GBOYEGA OYETOLA and feed unsuspecting members of the public with false information and updates as regards my person and the office I hold with the Government of the State of Osun, under the pretense of soliciting for funds, job and contract opportunities with the sole aim of duping them.
"I strongly dissociate myself and my office from these shady personalities and warn the general public to beware and discountenance such dubious and irresponsible solicitations. I acknowledge the advent of the social media platforms with its attendant benefits, though with few skirmishes and negatives inferences such as this, I DO NOT operate or have any Facebook account on any social media platform as at today, neither did I authorize nor ask anyone to solicit on my behalf for donations or advertise vacancies for job opportunities.
"Whoever is behind this evil and wicked act is warned to desist from such operations forthwith before it is too late, as there would be dire consequences when eventually caught. I am also working on rendering such mischievous accounts completely inactive.
"Members of the public are also advised to be watchful and observant, as operators of these pseudo and fake accounts should be called out and alarm raised, report such impostors to the law enforcement agencies."
en
SOURCE :The Nigerian Voice (local news)