Biafra and the conflict of rationality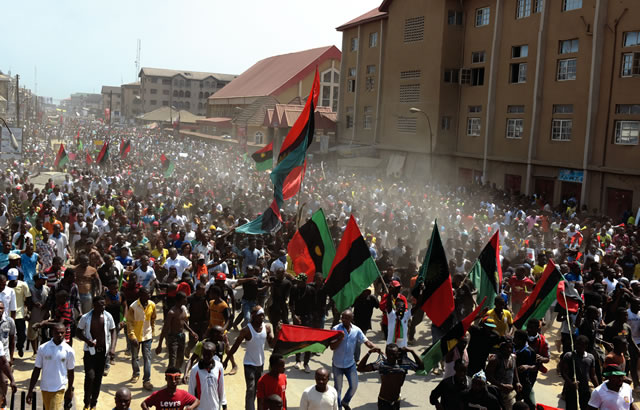 Before I start dealing with the thrust of my article, I would love to first pour out my love in appreciation to those minds who have always kept faith in my works and leaflets of thoughts. I had the privilege of making it to Owerri and was amazed at how persons would be like, "are you Agwu Prince? I have been following your posts on social media and I'm a fan". Only God can do these things because I remain nothing but an embodiment of his creativity. That being said, I would love you to pause for a while and sanely pay respect to all fallen 'heroes' who exchanged their lives for what they found themselves believing resolutely… [may their souls rest in peace, Amen!!].
During my service year in Taraba State, North-East Nigeria, I earned a name for myself – "Ojukwu". Hitherto, so many of my service year mates still call me Ojukwu. I might not be anything close to this icon to have inherited his name. Nevertheless, I can boldly say that even in the North, I remained an advocate of not just Biafra but the founding ideologies of this envisaged nation as enshrined in the 1969 Ahiara Declaration. Yet, the average Northerner was like a brother to me. I worked with them and earned from their resources. I argued with them virtually everywhere you can think of but we never cast hurt on ourselves for any reason. I was given a house by them and asked to pay in installment. I taught them at Taraba State College of Agriculture, Ardo-Kola and was respected to the very core. They bought me drinks and foods and went as far as sponsoring our community development projects which we nurtured with love in us [God bless Editorial CDS]. Surprisingly, a good number of them regard me as "a man of the people" hitherto and have never ceased from gifting me with items cum meeting my requests till date.
I might have not been to all states in the North but I am certain that their goodwill will never be far from same I enjoyed from the people of Taraba State [Christians/Muslims inclusive]. I must not fail to state that I enjoyed all of these from those persons who are of the poor and average masses category like myself. On the other hand, I now work in the South-East which is my geopolity by origin and I must say I have met more wickedness and subjected to more odd experiences than I ever was in the North. I am paid lesser than colleagues in the North; I enjoy lesser privileges than colleagues in the North and I meet more envy from my own brothers, of which I can say was never the case while in the North. Surprisingly, my geopolity stands to be more financially viable than the North but you can confirm the gross moral, infrastructural and structural torture we see daily in the hands of our own brothers. I would not want to exclude in totality the North from these sore experiences because I know they have their own stories to tell. I have only looked at this from my own lens and I have no apologies, because I know there are so many whose experiences are so much in tandem with mine.
As I have highlighted earlier, my knowledge on the subject of Biafra is not the story told by Nnamdi Kanu nor that preached by Ojukwu. My story is a synthesis of their positions, told stories by scholars and consistent evaluation with demands of current realities. Sadly, the story of Biafra for so many is that which the radio launched by Nnamdi Kanu has always preached. If I would classify Nnamdi Kanu, I would put it this way – "a man who is a Nigerian and needed fairness and development for the country but was driven by emotions to pursue a cause with less rationality". My apologies if I am blunt but I just have to for the gains of sanity. In other words, suffice to say that the quest for Biafra under Nnamdi Kanu is more emotional than rational and pathetically, his followers are same. We know that emotions are deceptive. They create a shadow of the real thing with that real thing in obscurity. Put the current agitation side by side with all other African agitations bent on self-determination or secession as the case may be. Put into consideration that of Madiba and reflect through the contents of the Freedom Charter which was a guide for the struggle in all of its shades. The emphasis was not hatred for the whites but the contents of a document acknowledged to be the desired expectations of all blacks in South Africa for their country. Hence, any bargain that was not meeting an appreciable percentage of those consensual contents was eschewed. Likewise remember the unflinching support of Winnie Mandela and her constant presence at the battle field [sobs]. Recently, the Oduduwa Peoples' Congress came up with the Ibadan Declaration, a product of effective representation of the Yoruba nation. We need not talk of Igbo because we already know the answer which revolves round campaigns of division and egocentrism.
Gentlemen and ladies, I am aware that so many South Africans gave in their lives for freedom. But, they never did so ignorantly. They were convinced with articulated objectives that what is ahead is "obviously" better than what they had. The last time such was made available in the Biafra struggle was in 1969 which was even at the end of the war. Thus, it can be argued that those who died before 1969 did so out of sheer emotional sentiments and not objective positions for the future. Sadly, same is still being repeated today. The average struggler for Biafra has in mind to break away from an inferred Northern hegemony because the picture created is that they are the source of troubles in our country. And I ask – how rational could this be to worth an exchange with my life? The truth is, hegemony will keep up in every political scene. Even if Biafra comes today, the possibility of hegemony will still be there. All we can do is to make this hegemony rotational and utilize legislations and policies to clamp on their excesses. In Nigeria, this is totally not unachievable. Hence, the need for an implementation of the 898 paged 2014 National Conference Report.
This will be continued…
Thinkers corner: Only an emotional man throws stones at some army personnel and pulls out machete to attack some army personnel with guns. A man who has hard objectives governing him, must be blinded away from emotional driven pleasures and frenzy. Be wise!!!
About the author: Agwu, Prince Chiemeka is an academic staff with the Department of Social Work, University of Nigeria, Nsukka. He has his specialty in social policy and migration studies and is the founder of The Rhetorics Consult, a firm reputed for value reorientation and communication consultancy. He is a radical social worker, researcher, public speaker and social commentator.
en
SOURCE :The Nigerian Voice (opinions)