Bianca Ojukwu, Ifeanyi Ubah shun APGA presidential campaign flag-off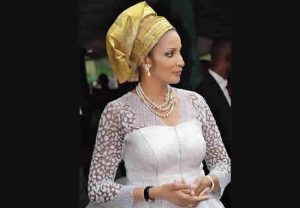 Ambassador Bianca Ojukwu, the widow of the founder of the party, Dim Chukwuemeka Odumegwu Ojukwu, and former active member of the party, Ifeanyi Ubah shunned the National Campaign Rally of the All Progressives Grand Alliance (APGA) for the flag-off of its presidential campaign on Thursday in Awka.
An online news platform reports that Bianca Ojukwu's absence was deliberately done to register her anger over what transpired during the Anambra South senatorial primary election which she lost to Prince Nicholas Ukachukwu.
The widow of the late Biafran warlord had called for the resignation of the national chairman of the party, Chief Victor Oye, following her loss at the primary.
Also absent at the event is a business mogul and owner of Capital oil, Ifeanyi Ubah.
News Express recalls that Ubah was disqualified from contesting the party's primary election for failure to obtain a waiver.
Speaking at the event, former national chairman of the party, and the senator representing Anambra central, Chief Victor Umeh appealed to Ojukwu's widow to put behind her all grievances and work for the success of her late husband's legacy.
While calling for calm, Umeh assured that, APGA is a party that is open to accommodate all Nigerians in governance and all their interests.
He said: "We promise Nigerians that all they need to succeed will be made available in APGA. We urge you all to put your eyes on the ball, and the ball is victory for APGA in all the election.
"We know people are aggrieved about the past, but we urge them to put it behind and put the party and her survival first.
"There is no way everyone will be happy, but having come this far, we should put our grievances in the past. Our opponents did not fare better in the last primaries, so let our own not be different.
"We must reach out to wife of our late leader Bianca, who has made noble contributions to the party, let us cling together and make a better commitment to the party."
Presidential candidate of the party, Gen John Gbor, was later presented with flag, alongside his vice presidential candidate, governorship, senatorial and House of Representatives candidates across the country.
Addressing the crowd, Gbor insisted that the All Progressives Congress (APC) and Peoples Democratic Party (PDP) have all failed Nigeria and cannot offer good leadership.
He called on Nigerians to embrace his party APGA, saying that it is the one party that will make a change in the country.
"I call on the Nigerian armed forces, my fellow retired generals, the youths, Nigerian students and all to join hands with us to make a change in this country," Gbor said.
en
SOURCE :The Nigerian Voice (politics)