Boko Haram Terrorist Group Releases Video Of How They Fought The Nigerian Soldiers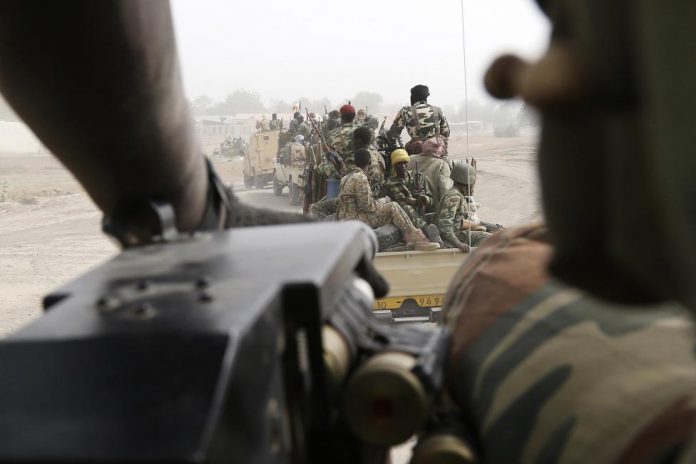 A disturbing video has been released by Boko Haram which shows how the terrorists carried out an attack on a military formation, killing a large number of Nigerian soldiers.
The video was released after the attack at Metele military base in Guzamala local government of Borno State where The National Assembly on Thursday suspended plenary in honour of the fallen soldiers, even as a cross-section of Nigerians expressed concerns about the worsening state of insecurity in the country.
In an extremely graphic video believed to have been released by the ISWAP faction of the Boko Haram, the insurgents were seen attacking a military base at a bush hat was littered with bloody corpses of Nigerian soldiers.
The five minutes and 32 seconds video started with an Arabic male voice playing over clips of video footage showing a large number of assembled Boko Haram members who were all kitted in military desert combat fatigue.
The gathered insurgents formed a circle around a burning fire while taking instruction from a commander standing in their midst before setting out for the operation.
The footage later showed the armed insurgents in a convoy of Hilux vehicles and gun trucks heading towards the location of the attack.
Shortly after that, the video showed the Boko Haram gunmen advancing into a military camp that was fortified with trenches while shooting sporadically.
The gunmen were not seen encountering any form of serious resistance as they made their way into the military base believed to be Metele. The attackers were seen walking over corpses of soldiers while shooting different calibres of guns and warheads.
Some soldiers were seen at a distance firing back at the invading Boko Haram fighters from trenches before they were all gunned down. A close-up shot showed the soldiers lying dead inside the trenches.
At a point in the video, the insurgents were seen walking over the corpses of fallen soldiers, shooting at them at close range and retrieving the rifles even as they also searched their pockets for valuables.
A seemingly dead soldier was seen still holding onto his rifle before a Boko Haram gunman arrived to fire at his corpse and yanked the gun off his cold grip.
An injured fair-skinned soldier who appeared to be in his early fifties was also seen being taken away by the Boko Haram fighters towards the end of the video.
The soldier who was still carrying a sack bag over his shoulder was later placed behind a pickup van as the insurgents drove him away to an unknown destination.
The insurgents, most of whom were shown wearing hoods to cover their faces, were seen boarding a vehicle belonging to the Nigerian military.
A male voice speaking in Arabic said: "People should embrace the fear of God in all their dealings, and fear the wrath of God on the day of resurrection. Your ticket to paradise is here in this world; your deeds will decide which part of heaven you will find yourselves – either in heaven or in hell depends on your good deeds and bad deeds.
"So people should strive to hold onto the injunctions of God.
"Remember that God watches all your deeds and accurate accounts are being taken. You cannot be victorious in the sight of Allah unless you wish for your brother that which you wish for yourself.
"If you do not do this, know that your worship is worthless.
"In every society there are infidels and evil-doers; hence people should stay clear from them and their bad deeds to avoid the wrath of God even here on earth."
en
SOURCE :The Nigerian Voice (local news)