Boko Haram Terrorists Kill 9, Injure Scores in Mailari Village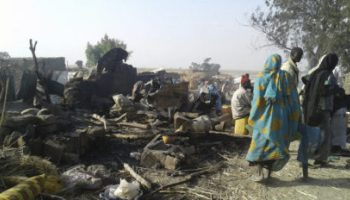 By Ahmed Abu, The Nigerian Voice, Maiduguri
A Civilian JTF Commander, Babagana Umar on Monday confirmed to The Nigerian Voice in a telephone conversation that about 50 Boko Haram insurgents stormed Mailari village of Guzamala LGA of Borno State on Sunday night around 9 pm, killing 9 people and wounding several other villagers including the old and children.
He said when his team went to the village on sympathy visit today Monday, they discovered that the BHTs invaded the village using motor cycles and pick up vans according to the few villagers that stayed behind. They attacked the village, burning about 10 shops and carted away livestocks, food items and cash belonging to the villagers in an attack that lasted for about 3 hours.
Umar added that the villagers ran away for safety to other neighbouring villages but returned later to their homes when the BHTs left the village and moved south west of the village probably to regroup in Kangar area.
According to him, socio economic activities of the village was disrupted and the residents of the village were displaced, including their livestock.
He appealed to the military for support and intervention to track the fleeing BHTs and to clear the remnants in order not to spread to other areas. This has become very necessary because of the farming season where farmers and herders may become soft targets for the Boko Haram Terrorists.
en
SOURCE :The Nigerian Voice (local news)